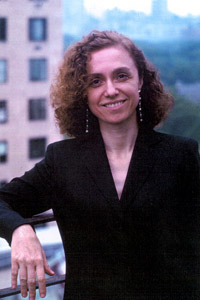 Stefania De Kenessey
Hear a RealAudio sample 

At the beginning of the twenty-first century, "new" music seems to find itself in a quandary. Its predecessor, the twentieth century, was unlike any other hundred years in the history of music: it gave itself over almost completely to experimentation, to questioning past practices, to jettisoning historically accepted "truths."
The question for us is simple: What can be genuinely "new" when virtually everything new has already been tried within the not-too-distant past?
The answer, I believe, is equally simple: The newest of the "new" must now return to tradition, to sonorities, techniques and idioms that are somehow familiar. Not blindly, not stupidly, and certainly not as a retrogressive gesture —but with judiciousness, intelligence, and taste, synthesizing diverse influences and forging ahead to create a new, distinctive voice.
To showcase this new aesthetic, I founded the humorously named "Derriere Guard" a few years ago. Our initial four-day festival took place in 1997 at that bastion of the avant-garde, The Kitchen, and featured concerts of contemporary chamber and orchestral music, gallery exhibits of art, sculpture, and architecture, poetry readings, round-table discussions, the events capped by author and cultural critic Tom Wolfe giving a (hilarious) keynote speech. The music was tonal, the paintings and sculptures figurative, the poetry metered and rhymed —and yet everything had been produced within the last five years.
I need only add that we sold out almost every show. Audiences —including the trendy downtown audiences —simply loved it. There is a genuine hunger out there for music, art, and poetry that is beautiful, well crafted, and comprehensible yet aspires to the high standards of the classical legacy.