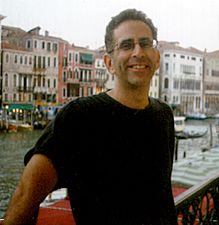 Photo by Kathleen Tréfousse
Concert pieces are like oil paintings: drawing on the canvas in charcoals, weeks of underpainting, then working and reworking the final canvas. Working this way, I've explored many creative possibilities and approaches and even elements eventually discarded are sometimes new beginnings for my next work.
A film score has to be written very quickly, so it's closer to painting in watercolor—once the piece is complete, it's done and you move on the next one. There's a kind of Chinese brush painting where the aim is to have practiced your brushwork so fully that when you sit down to paint a branch of cherry blossoms, the painting emerges in one continuous series of brushstrokes. It's an exhilarating way of working; I feel like I'm writing more directly out of the unconscious. The Hollywood film composer Lee Holdridge once said to me, "I just close my eyes and write."
Sometimes the urge to rework a piece feels like an onerous task. When I return to concert music after having completed a film, the chance to work more slowly becomes an unexpected luxury.