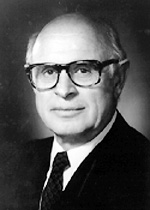 Arnold Broido (1920-2007), photo courtesy ASCAP
Arnold Broido, Chairman of the Theodore Presser Company, a leading publisher of symphonic and concert music, and Treasurer of the ASCAP Board of Directors, died on October 25 at the Quadrangle retirement community skilled nursing center in Haverford, Pennsylvania. He was 87 years old and resided at The Quadrangle.
Arnold Broido was associated with the Presser Company since 1969, when he became the company's president. He began his long career in the music field as a piano student at the Mannes School, later studied at Juilliard, and then at Ithaca College, from where he graduated in 1941. He taught music briefly at East Junior High School in Binghamton, New York until World War II, which was spent musically in the U.S. Coast Guard, including sea duty around the world on troop transports. After the war, with no teaching jobs open, he joined Boosey & Hawkes as head of the stockroom, became editor, and so began a long series of adventures in music publishing. His career took him from Boosey to Century and Mercury Music, then to E.B. Marks, Frank Music Corp., Boston Music and, finally, in 1969, to the Theodore Presser Company as President. At his death, he served as Chairman of the Board of both Presser and Elkan-Vogel, Inc. and actively headed the publication department of the group. In 1990, Ithaca College honored him with the Doctor of Music degree in recognition of his activities on behalf of contemporary music and intellectual property. In 1998, after many years of serving on the Board of Directors of the American Music Center, the AMC awarded him their Letter of Distinction "for his significant contributions to the field of contemporary music."
After serving on the ASCAP Board of Directors from 1972 to 1979, Broido was re-elected in 1981 and voted Treasurer in 1990. At the time of his death he was also a Director and Treasurer of The ASCAP Foundation. In addition to his work at ASCAP and Presser, some of his activities included: Director and Secretary of the National Music Publishers Association, Director and Secretary of the Harry Fox Agency, former President and current Director of the Music Publishers Association of the United States, Chairman of the International Confederation of Music Publishers and President of the International Federation of Serious Music Publishers.
Arnold Broido is survived by Lucy Broido, his wife of 63 years, and their three sons, Thomas (of Havertown, Pennsylvania), Laurence (of Ardmore, Pennsylvania) and Jeffrey (of Morristown, New Jersey), and three grandchildren. In February 2000, an extensive talk with Arnold Broido about the state of music publishing was posted to NewMusicBox.
(Posted by Frank J. Oteri)