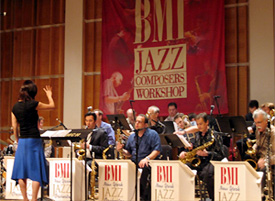 Asuka Kakitani leading the BMI/New York Jazz Orchestra in a performance of her composition Dance 1 at Merkin Concert Hall
Photo by Robbin Ahrold, Courtesy BMI
The BMI Foundation has awarded Asuka Kakitani its seventh annual Charlie Parker Jazz Composition Prize. The award honors the writer of the best new work composed during the annual BMI Jazz Composers Workshop. The award was given after the BMI Jazz Composers Workshop's annual showcase concert at New York's Merkin Concert Hall. The concert featured eleven compositions, five of which were BMI Foundation/Charlie Parker Composition Prize finalists, performed by the BMI/New York Jazz Orchestra, each conducted by its composer. Asuka Kakitani's award-winning composition Dance 1, is an evocative work inspired by the famous painting by Henri Matisse. The other finalists were Javier Arau, Ann Belmont, Thomas Goehring, and Andrew Rathburn.
BMI's Jazz Composers Workshop began 15 years ago when composer/arrangers Bob Brookmeyer and the late Manny Albam (1922-2001), together with BMI jazz expert Burt Korall approached Robbin Ahrold, BMI's vice president for corporate relations, with the idea of creating a program where jazz professionals could further hone their skills in composing for big band. The workshop is currently directed by Vanguard Jazz Orchestra composer-in-residence Jim McNeely and composer/arranger/producer Michael Abene, who also serves on the faculty of the Manhattan School of Music.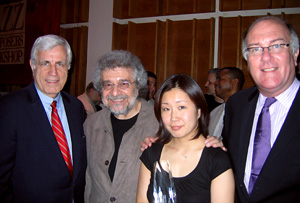 From Left to Right: Robbin Ahrold, Michael Abene, Asuka Kakitani, and Jim McNeely
Photo by Frank J. Oteri
The judges for this year's BMI Foundation/Charlie Parker Composition Prize were trombonist/arranger/jazz educator Robin Eubanks, tenor saxophonist/bandleader Joe Lovano, and Dan Morgenstern, jazz historian and director of the Institute for Jazz Studies at Rutgers University. The prize includes a cash award and the $3000 Manny Albam Commission to compose a new piece which will be performed at next year's showcase concert. The 2006 showcase concert concluded with a performance of I Stand Corrected, the Albam commissioned work from 2005 Charlie Parker Composition Prize winner Sherisse Rogers.
Five Questions for Asuka Kakitani
FJO: What got you interested in creating big band jazz?
AK: I write for seventeen people: eight brass instruments, five saxophones, and a rhythm section. When seventeen people play really together, seventeen notes melt and become one note; it is so powerful and deep. I think that magical moment keeps me doing this. Also I enjoy creating many lines, like a conversation between a few people. I think writing a piece is like making a long story. I enjoy it a lot. And I like that I can hang out with seventeen people at the same time. It is like a party!
FJO: What other kinds of music do you compose?
AK: I write for tentet (six horns and rhythm section), and smaller settings like two horns and rhythm section, trio and duo. I am interested in writing for strings, both orchestra and smaller size groups. And I'm also thinking about writing Japanese pop.
FJO: It would be great to hear more of it and see it get some attention. We've put a link to your MySpace page on this article. Has MySpace helped spread the word about your music?
AK: Yes. I think MySpace is great. What I like most about it is I can listen to other peoples' music so easily. And I can tell them I like it. Also people can check out my music.
FJO: I was intrigued by the references to Matisse in your program note. Are paintings a frequent source of inspiration for your music? Matisse's painting of five women dancing is an iconic image of the 20th century; how are they represented in your music?
AK: I love paintings. They've inspired me always. Actually I don't know about art history. I see paintings I like and I make up a kind of story by myself. I see contrast of active movement and quiet moments in Matisse's painting. In our lives there are a lot of contrasts like laughing and crying, love and hate, anger and fear…I tried to express them in my piece.
FJO: You've only known about the award for less than a day so perhaps it's too early to ask, but have you started thinking about the piece you will write for the Manny Albam commission?
AK: I am still looking for an inspiration…I know I want to write something different though.