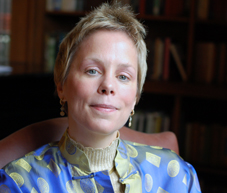 Augusta Read Thomas
Composer Augusta Read Thomas has been appointed as University Professor of Composition in the Department of Music and the College at the University of Chicago. She will become the 16th person ever to hold a University Professorship, and the fifth currently at the University. University Professors are selected for internationally recognized eminence in their fields as well as for their potential for high impact across the University.
Thomas's appointment takes effect in July 2011.
"It is exciting to welcome as a colleague someone whose work lies at the intersection of the creative and scholarly worlds," Martha Roth, dean of the Division of the Humanities, said in a message to Humanities faculty. "The University has a renewed commitment to expanding and integrating the arts into the academic enterprise and out into the city of Chicago and beyond; Augusta's appointment is an important expression of that goal."
Thomas's fellow University Professors currently at the University of Chicago are Alexander Beilinson, the David and Mary Winton Green University Professor in Mathematics and the College; Gary Becker, University Professor in the Economics, Sociology and the University of Chicago Booth School of Business; James Cronin, University Professor Emeritus in Physics and Astronomy & Astrophysics, the Enrico Fermi Institute and the College; and David Wellbery, the LeRoy T. and Margaret Deffenbaugh Carlson University Professor in Germanic Studies, Comparative Literature, the Committee on Social Thought and the College.
(—condensed from the press release)