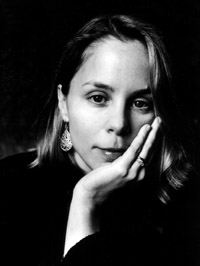 Augusta Read Thomas
Photo by Jerome de Perlinghi
G. Schirmer, Inc. has announced the signing of Augusta Read Thomas to an exclusive five-year composer contract, in which the company will represent the music formerly in Thomas's own company ART Musings, as well as her future compositions.
"We are thrilled to welcome Augusta Read Thomas to G. Schirmer and the affiliated companies of the Music Sales Group worldwide," states vice president Susan Feder. "A tremendously gifted composer, Thomas has had a meteoric rise to success on an international level and has been championed by musicians as diverse as Daniel Barenboim, Pierre Boulez, Mariss Jansons, Seiji Ozawa, Mstislav Rostropovich, John Nelson, Christian Lindberg, David Finckel, Chanticleer, and the Avalon Quartet. Her music has also frequently been heard at the Aspen Music Festival, Cleveland Orchestra, and the Chicago Symphony, where she is composer-in-residence." Feder continues, "Thomas's music is at once intelligent and intense, urgent and impassioned, structurally complex and immediately accessible. With seemingly limitless energy, she is also a dedicated teacher at the Eastman School and a passionate advocate for new music through her position in Chicago. We hope to give Augusta more time to compose, and we look forward to working closely with her to further her career and disseminate her music to the widest possible audience of performers and listeners."
In a phone interview, Thomas commented: "I consider it a huge honor because Schirmer is a company that has been devoted to contemporary music for a long time." She explained that dropping the self-publishing activities out of her schedule comes as "a huge massive relief." "I have spent too many hours at Kinko's and FedEx – every night before I went home." Thomas is pleased to have someone else making her music accessible, as well as promoting it. "I literally have been keeping music under my bed. The thought of having it in an office where someone can call it and get it is very reassuring." She is also pleased that Schirmer will be helping her build her own archive over the coming years. Thomas hopes that over the coming years, she and the staff at Schirmer "can build something really interesting. My goal is to write music," she concluded, "and I am so grateful to find another bunch of human beings to directly help me."
In the past 12 months alone, Thomas has had six major premieres: Aurora: Concerto for Piano and Orchestra, co-commissioned and premiered by the Berlin Philharmonic and the Chicago Symphony (with Daniel Barenboim as soloist); Invocations, performed by the Miami String Quartet at the Santa Fe Chamber Music Festival; Fugitive Star, performed by the Avalon String Quartet at the Caramoor Festival; Ring Out Wild Bells to the Wild Sky (with texts by Tennyson) for the Washington Choral Arts Society at the Kennedy Center; Song in Sorrow for soprano, chorus and orchestra commissioned by the Cleveland Orchestra, and the orchestral work Ceremonial for the Chicago Symphony, led by Barenboim.
Thomas's upcoming premieres include a work for Mariss Jansons and the Pittsburgh Symphony, to be presented in May, and Daylight Divine for soprano, children's chorus and orchestra commissioned by John Nelson and Soli Deo Gloria, which will be premiered at the Festival Saint-Denis in Paris in June. She will also write a new work for Germany's NDR Orchestra and Christoph Eschenbach for a premiere in November 2002.
Thomas began her musical career with studies at Northwestern University, Yale University, and at the Royal Academy of Music. She has received prizes from ASCAP and BMI; the NEA; the Naumburg, Fromm, Guggenheim, and Koussevitzky Foundations, and was awarded this year's Siemens Foundation Prize in Munich.
G. Schirmer is one the oldest publishing houses in America, having been founded in 1861. Having acquired Associated Music Publishers in 1964, today G. Schirmer counts among its roster of living composers such elder statesmen as Elliott Carter, Karel Husa, Leon Kirchner, Gian Carlo Menotti, and Gunther Schuller; contemporary leaders like John Adams, John Corigliano, John Harbison, Peter Lieberson, André Previn, and Joan Tower; as well as younger figures such as Richard Danielpour, Anthony Davis, Aaron Jay Kernis, Bright Sheng, and Tan Dun.