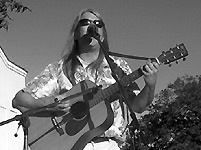 Lindsey Eck
The Austin performance of Orion by the Philip Glass Ensemble last month was unquestionably a success. That's both good news and bad news for those worried about a crisis in classical music. Good news, because it shows how a mid-size provincial city can make use of its arts infrastructure to attract a broad audience to contemporary art music. Bad news, because at Glass's current stage of evolution his œuvre is anything but classical.
Despite the relatively high ticket prices, an attentive and appreciative audience nearly filled the University of Texas' capacious Bass Concert Hall. From chatting with various audience members, I gathered that an interview with Glass and other Ensemble members the day before on John Aielli's Eklektikos, a daily program of arts music on KUT-FM, had attracted many to the Glass performance. KUT, whose connection with the university is pretty much limited to having its studios housed on campus, is a National Public Radio station that persists in offering a broad range of music in between news programming, unlike other NPR outlets that have gone all-news. As a result, KUT has eclipsed other Austin stations to become the city's top-rated in any format.
Glass, with most of the Ensemble, also delighted a small but enthusiastic group who met at the concert hall for a brown-bag lunch and discussion of Orion on performance day. After a round-robin introduction in which each Ensemble member spoke of his or her contributions to the collaborative work, most of the session was devoted to a question-and-answer period in which Glass exhibited his usual intelligence, graciousness, and spirituality.
Much of the discussion focused on the mechanics of integrating Western notated music of the conservatory tradition in which Glass received his early training with non-notated, improvisational styles such as the Mandingo tradition of Foday Musa Suso or alternate notations and scales such as those used in Ravi Shankar's contribution to Orion (executed at this performance by long-time Shankar student Kartik Seshadri).
In response to questions, Glass spoke of misinterpreting Suso's improvisational CD, which he had forgotten by the time they came together for Orion, as a fixed piece the griot intended to execute. He recalled his first encounter with Suso in 1987, in which he convinced the Gambian to tune to a Western scale (against his tradition). When he had established that a particular note on Suso's kora was equivalent to our G, and Suso said, "That's the first note," Glass played an A and asked what that note was called. Suso replied, "that's the next note." As this continued, Glass realized that in the Mandingo tradition, the notes had no names, an insight which he experienced as the floor falling out from under him. "The ground I walked on had disappeared," he said.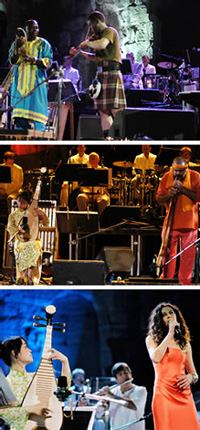 Philip Glass's Orion
In his collaboration with Ravi Shankar, Glass again got the master to assimilate to the Western scale; Glass was able to teach him solfège in five minutes. But Orion shows how far Glass, too, has been forced to loosen the strictures of notated music and classical praxis to accommodate others' notions of invention, rhythm, and periodicity. What remains of the Euro-American tradition has more to do with rock and pop than classicism or romanticism, let alone modernity.
In both its form and execution, Orion recalls the similarly international confections of Béla Fleck and the Flecktones. And it is odd that a conservatory grad like Glass and a Nashville bluegrasser like Fleck could end up with similar ideas about coordinating music from around the globe. Or maybe not so odd. Bluegrass is—flashy soloing aside—rather minimalist in its restricted tonality and droning instruments, and Fleck evolved through arranging Bach for banjo to the international mix of today's Flecktones.
The ensemble that gave us Orion on Friday night included three electronic keyboards (with Glass at one), four woodwinds, and two percussionists throughout the piece, with appearances by soloists Mark Atkins (didgeridoo), Wu Man (pipa), Ashley MacIsaac (fiddle), Foday Musa Suso (kora), Kartik Seshadri (sitar), Uakti (a Brazilian trio with one flautist and two percussionists who specialize in PVC creations), and Eleftheria Arvanitikaki (soprano). By dividing the work into movements focused on one or two soloists, and only bringing the whole orchestra together at the end, the composition lived up to Glass's goal: "not to boil it down into a sort of Esperanto, but to find commonalities." However, these foreign traditions may have more in common with Euro-American popular and folk music than with its classical corpus.
To put together this suite—nearly two hours in length, incorporating multiple improvised sections, and created in collaboration—required "music minus one" recordings by the ensemble, worldwide CD exchanges, followed by an intensive regimen of live rehearsal. The result was a performance that kept interest through the slow, meditative sections and never flagged rhythmically during the uptempo solos. Much of the problem with the performance of non-canonical "classical" works may be the simple lack of rehearsal time prior to their execution. Orchestras typically are allowed a couple of run-throughs for a new and challenging work that demands weeks of practice to pull off adequately. The audience can tell, and a lot of popular hostility to new repertoire likely represents a negative reaction to sloppy performance rather than deficiencies in the works themselves. As Charles Rosen wrote in this month's issue of New York Review of Books,"With radical changes of style, it takes more than a decade for performing musicians to catch up and find an adequate way of rendering the new." In the case of putting together Orion, Glass said, "If I had had to solve these problems in a year it wouldn't have been possible." Of learning to assimilate international music traditions to create a "music without borders," said Glass, "It's taken the rest of my life, and I'm not finished yet."
Because Orion is a collaboration with Glass as first among equals, because of the way in which it was rehearsed (through CD exchanges plus exhaustive live rehearsals), and because of its incorporation of improvised sections, the excellence in performance achieved in the Austin show was more a matter of what jazz and rock musicians call tightness rather than the bravura one expects from a philharmonic orchestra. The near lack of bowed strings (MacIsaac's Cape Breton fiddling the sole exception) and the absence of a conductor add to the similarities with popular entertainment—all to the good. The colorful costumes, the willingness of performers to stand up and move around, and the novel instruments all work to free the piece from the stuffiness of so many concert hall experiences, while the gathering of the entire troupe at the conclusion instantiates global harmony, which after all is the Olympic theme Glass was commissioned to commemorate.
Though Orion allows for virtuosity in the form of solos by international performers, much of the piece continues the traits that got his early work labeled minimalist, especially the primitive tonality. Indeed, the drone quality of the sitar with its sympathetic strings, and the didgeridoo with its single fundamental note, only encourage Glass to avoid deviation from a tonal center.
With its radical instrumentation, its approach to rehearsal, its collaborative approach, its eschewing of the conductor as patriarch, Orion shows a widespread abrogation of European classical methods and intentions. The integration of ancient ideas from other parts of the world into a new whole cannot serve as a "way forward" for any music that deserves the label "classical." But that's not a criticism of Glass. Indeed, in its achievement of drama without tension (as in the best works of Mozart), its meditative calm without ennui, and its musical excellence without pyrotechnics, Orion ranks among his very best works, regardless of its implications for the European tradition from which Glass has traveled farther and farther away.
***
Lindsey Eck is a journalist, songwriter-composer, and Web developer based in rural Texas near Austin. He holds degrees from Harvard and William & Mary and a second-degree black belt in Shaolin kung fu.