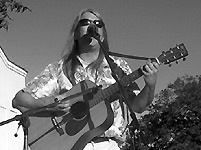 Lindsey Eck
Henna Chou's strangest collaboration began when she answered an ad on Craigslist for a composer willing to write for toy instruments. Soon she was sucked into the Vortex—Austin's experimental theater group, though the directors of Holes Before Bedtime resist that term. "We approach it in a very straightforward fashion," says co-director Matt Hislope. "We approach it as if it were something out of the canon." The musical, by Dan Basila (whose specialty is plays about babies), is a farce concerning a male pregnancy in the form of testicular cancer. Despite the infantile yet family-unfriendly subject matter, the rigors of a tight repertory production in a small but high-profile urban theater demanded scoring with tightly coordinated rhythm and timing that belied the appearance of daft spontaneity.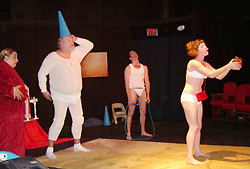 Holes Before Bedtime
Holes Before Bedtime began as libretto for an opera, and was staged as such in New York and San Francisco. In Austin, it's a musical with the lines spoken or chanted as well as sung. Issues of timing, together with the demand that instruments double as the source of sound effects, pose different and perhaps greater challenges as compared with scoring the text as an opera.
"We wanted it to be somewhat sparse," says co-director Josh Meyer, "because we did a workshop production of this in November, and we had no instrumentation; it was all just singing a capella. And it made the characters seem even more insane…we wanted to hold onto that." What Meyer calls sparseness translated into a minimalist soundtrack for the live performance from Chou, a label she accepts.
Meyer supplied the vocal lines for the places where chant turns to song; thus he shares writing credits with Chou. What looked like child's play in performance was actually the result of weeks of rehearsal. Chou only notated a few bars of the score and then the piece grew collaboratively, further honed by listening back to recordings. The result, boasts Meyer, is a show that differs considerably from night to night, yet last Friday's performance met Chou's goal of "wanting it to seem deliberate."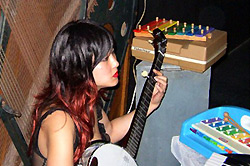 Henna Chou
Chou was required to serve as one-woman band in full view of the audience. With aplomb and a deadpan expression that contrasted with the high silliness onstage, she switched with little in-between time from regular keyboard to the toy xylophone and celesta-thingy (one at each hand) to cello to banjo to percussion and back. Her composure at such a task reflects long classical training via private lessons—12 years on piano, cello from the age of eight, and guitar from twelve, continuing through her undergraduate years at Iowa State. In the last three years she's played little classical repertoire, focusing on original collaborations with Texas musicians including shows in San Francisco with Houstonian Annie Lin.
The text, even when chanted rather than sung, had the insistent rhythm of Mother Goose rhymes. The effect was oddly reminiscent of Jacobean blank verse—an iambic meter that Chou capitalized on with her continuo passages on the cello—constantly emphasizing the iambic accents on the downbeat and playing against them on the upbeat. The cello served many functions, from a droning, monotonous "rhythm tool," as she puts it, to a shrieking, squealing sound-effects generator.
Meyer added a narrator or choragus to the original script. When Anthony Megie showed up for the audition, he was wearing tap shoes. Naturally he got the part and a chance to tap, a rhythm which Chou was delighted to use as percussion.
Chou's next project is to finish up some original songs, but she hopes to write for theater again in the near future. As her first theatrical work, Holes Before Bedtime surely served as a tough baptism by fire, which makes her calm execution all the more admirable.
***
Lindsey Eck is a journalist, songwriter-composer, and web developer based in rural Texas near Austin. He holds degrees from Harvard and William & Mary and a second-degree black belt in Shaolin kung fu.