Last week, I wrote in this space from a kind of alternate reality that only the most spectacularly prolific composers get to experience with a certain regularity, but for most of us is still a pretty special occasion: premiere week. Major orchestra, major new piece. Major pressure, major attention, major excitement.

And now, a week later, in this final post on my week with the New York Philharmonic—easily among the most thrilling of my life—I find I don't have that much left to say. The performances were beautiful: Saturday night's was, as I said to Alan Gilbert before bowing onstage, the best I've ever had of anything. The reception was positive and supportive: over the course of each evening, the crowds' initial curiosity seemed swayed toward a certain satisfaction. I felt that I was in terrific company on the program. Tons of friends new and old were there to cheer me and the whole endeavor on. And the chaos resulting from the volcano in Iceland seemed to directly affect nearly everyone involved except me, so there was a wonderful zany tension that lightly peppered so much of the last few days. While I really empathized (or tried to empathize? How does one even "go there" emotionally? Diabolical Ash Cloud Travel Drama was new to me last week.), I had the luxury of selfishly pushing all that spice to the side of my plate. In my mind, reCONTACT! (thanks, Q2) was a great event. Biased? Of course. But after spending at least a year lying awake at night imagining all the ways it might not go that great, I have to admit it: I'm pleased.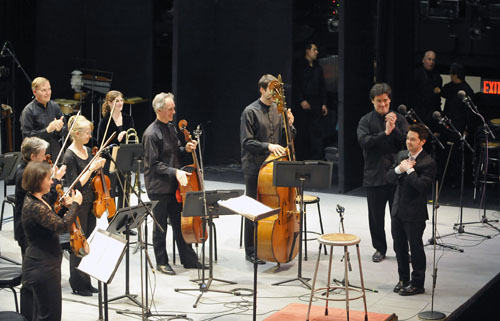 Photo by Stephanie Berger
So what did I do next? I packed it up, left some of my family still on vacation in New York, and spent a few days at my alma mater, Indiana University in Bloomington, to hear the New Music Ensemble play this very piece again. This group, rockin' as usual (I played bassoon as a member way back in the 1900s), is led by composer/conductor David Dzubay, my first real teacher of composition (also in the 1900s). We slammed into each other at (Le) Poisson Rouge in January (I'd been back in New York for two whole American weeks, and he was in town on IU's winter break), started chatting, and the rest happened very quickly. I had two sets of parts made, the Philharmonic kindly said, "Okay, sure." Tickets booked, my April homecoming was fully scheduled: eight years in the making, two days after my New York Philharmonic premiere.

It was just the delightful shock, that perfect change of perspective that I needed at the beginning of this week. First of all, it kept me mostly away from the Internets: the place where one's personal and professional neuroses are allowed to frolic, dance, and romp at will upon devouring any and every review or blog mention in the days right after concerts. We can Google-bate ourselves into a kind of psychologically tenuous ecstasy of narcissism that resembles poll-taking by phone and corporate feedback surveys. It's a dangerous place in that very sensitive time when the sounds of the final concert are still ringing in our ears, and anyone who's seen their name or work sliced and diced onscreen (unfairly or not—that's far from the point) never forgets that sharp stab in the gut and never wants to feel it again. But yet. We still go looking, searching, scouring, as if this were that drop of water in the desert that will bring us back to life. Not necessarily for any kind of validation (which is what we crave, often at our peril), but more to complete a process of putting a privately rendered entity into the hands of a public—that final communication that completes the conversation. Although I know older and certainly wiser composers who make a point of not seeking out public commentary, I feel that as long as there is art, there will be the necessary counterbalance (even if, some days, it looks more like a wrecking ball) of arts criticism. The piece, once mine, is now ours.

My trip to Bloomington also threw Sean at age 20 vs. Sean at age 30 into surprisingly sharp relief. Unlike Al Bundy, I see my best days as being ahead of me (better a composer than a gymnast or dancer, right?). Eyes always forward, I tend to miss the fact that all of my travel, experiences, decisions and interactions are continually shaping both my character and my outlook. Ironically, the eyes have lots of limitations, and there is no way I was capable of seeing this reality as my future back then. I was invited to give a talk to composition students, and upon sitting in the lecture hall, immediately remembered that it wasn't that long ago that what happened in that hall was my clearest window to what was going on in the wider world of music. I felt somehow scrubbed clean to be describing both the experience of greeting the members of the New York Philharmonic onstage two days before, and of those tough years in Indiana: figuring out how to get notes to work together, of feeling lost and overwhelmed and frustrated while watching my classmates thrive and find their way. It's easy to look back now and see that at that time I was an efficient and absorbent sponge: I had a lot of information and training to draw in before I was capable of connecting the creative wires with those of technique and influence and getting any interesting sparks. I very much hope that I'm still close to the beginning of that path–I still see my best days (and certainly my best music) as being ahead of me.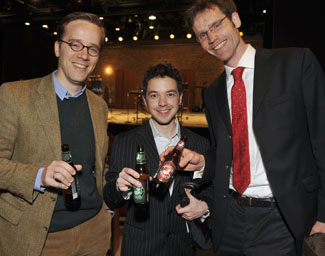 Shepherd (middle) mingles with the crowd after the show.
Photo by Stephanie Berger
And that has brought me to the most severe realization of all. Writing music, as taxing as it is for me now, is only going to get tougher, especially if I expect others to listen to it, or if I would like to improve. If I was able to leap a mile between pieces ten years ago, the same effort on my part now may result in the improvement span of a foot today. With the experience and stronger sense of myself that I might expect by age 40, I can see that space shortening to an inch (while still a "young composer"). So my effort toward each piece must grow by inverse response; a commitment to a life's work as a composer starts looking like a pretty massive challenge. But I'm not about to compromise my standards at this point—all of the composers I most admire went through the peaks and valleys of creativity in fascinating ways over the course of their lives: they may have suffered, but the music they wrote was not permitted to wane or sag in vitality. There are no shortcuts.

Those standards are similar to what the members of the Philharmonic hold themselves to, week after week. True, their brilliant playing got them through the audition. But getting through the 17-month tenure process or a 30-year career has much less to do with flashes of brilliance than it does with an attitude focused on spectacular consistency; if it's worth doing, then it's worth knocking out of the park each and every time. It's a potent work environment, and one where things happen pretty quickly (like seven programs in three weeks). As I once heard a distinguished teacher at Indiana put it: there's always room at the top. We are always capable of more and better, of being more curious, more focused, more prepared, more humble, more generous. In the end, as I see it, a commission is a statement by an organization of intent and an extension of trust. It need not hide a false altruism, nor need it mean anything beyond the signed agreement. I could have fulfilled my end of the bargain in any number of ways, but if I have been shrewd or calculating about this commission, it's been toward doing my best to understand that the special sense of standards that they have set for themselves would most certainly apply to me and my work. My striving, stretching, straining best would be just barely good enough, and we would go from there. Lucky me—that happens to be just the way I like it.