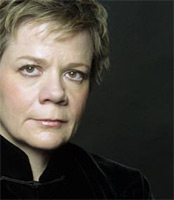 Marin Alsop
Much has been made about Marin Alsop's appointment as the Baltimore Symphony Orchestra's new music director—a post she'll assume from out-going director Yuri Temirkanov beginning in the 2007-08 season. There's the fact that she's the first woman to hold a position with a major U.S. orchestra. And there's also the fact that her appointment generated a lot of controversy, especially considering that nearly 90 percent of the orchestra's musicians criticized the search process heavily, arguing that their input wasn't given serious consideration. Be that as it may, the process is over, hopefully any bitterness has been put aside—she actually held a meeting with the musicians to talk about the search process and their feelings—and Maestra Alsop will lead the BSO full time, like it or not. Last Thursday, Baltimore got a glimpse of the maestra in action as she led the orchestra in a program featuring Christopher Rouse's Symphony No. 1, Mozart's Piano Concerto No. 12 in A Major, K. 414 with pianist Leon Fleisher filling in at the last minute for Piotr Anderszewski, who cancelled due to "an over-commitment of performance engagements in the coming weeks," and Dvorák's Symphony No. 7, op. 70.
To say the least, Alsop's appointment marks an immense change at the helm for the BSO. Gender aside, she's relatively young, is largely American-trained, and is known for giving new music more than a fair shot. The former was evident from the get-go as the program—and her tenure with the orchestra, as far as Baltimore seemed concerned from the incredible welcoming standing ovation she received—began with Baltimore-native Chris Rouse's one-movement Symphony No. 1. Speaking to the audience from stage before beginning the work, she expressed her excitement about being there and gave the audience a glimpse into the work, explaining how Rouse built the piece around the pitches B-A-C-H and using the orchestra to illustrate her words sonically. I liked this. She wasn't "dumbing down" for the crowd, and her use of a little humor—"In the middle of the work, Mr. Rouse used the initials of many people he didn't like," which was followed by a cacophony of dissonance—was tasteful, effective, and right for the moment.
Alsop's address to the audience stirred memories of another charismatic former BSO music director—David Zinman. I used to love Zinman's programs with the BSO, the way he blended new American works with "old favorites." But not only that, he frequently spoke to the audience from stage, which I think makes everyone feel a little more comfortable, especially those that might be wary of a new piece of music—or a piece of new music. It's an interesting switch to have swung from one extreme (Zinman) to another (Temirkanov) and back now with Alsop.
I've noted before that the criticism often slung at Temirkanov might not entirely be a result of his own doing. There was a whiff of that last Thursday. During the Rouse, the orchestra really seemed to be defying Alsop's ictus. At times her hands would go down, come up, and start back down before the orchestra produced any sound. While there's usually a degree of conductor-orchestra lag time, this seemed so incredible that I had to take note of it. Despite this, the orchestra sounded fabulous all night long—the sound was warm, coordination was excellent, and the intonation was very close to perfect—although I thought I detected a drop in energy somewhere in the middle of the Dvorák, which, by the way, she conducted from memory.
Walking out of the Meyerhoff after the show was interesting as I tried my best to eavesdrop on as many conversations as possible. As you might expect, everyone was buzzing about the maestra. Actually, there was a lot of buzz both before and after the concert, something the review in the Sun captures well. (Interesting that the article doesn't speak a lick about the program, her conducting, or the performance.) Many of the comments I heard, and of course I could only hear a small sample, sounded slightly disappointed, like she might not have lived up to the hype that the BSO had created. "Well, she is the first woman conductor of a major orchestra in the United States." "It wasn't really what I was expecting." "She's different than I thought."
It's understandable that people might have been slightly disappointed. First of all, the program wasn't all that flashy. In contrast to Temirkanov's programs, which featured many a warhorse, there weren't any truly recognizable works on Alsop's program that Baltimore concert goers might be able to sing in the shower the next morning. Second, she's got kind of a strange style. It's not flamboyant. It's not grandiose. She doesn't get up there and put on a show. But that's the thing, there are conductors who don't put on a show but still exhibit a certain power over an audience. I hope I don't get struck by lightning by saying that her conducting style isn't all that special. It's a little tight. She tends to lurch at the orchestra bent over slightly most of the time. And another thing that might have contributed to an audience member's disappointment last night given the grandness with which her appointment was announced, is that she is a rather diminutive presence on stage—physically, not musically. Hey, although I'm pretty sure her height didn't affect my opinion of her performance, I'm just saying…
I hope Baltimore embraces Alsop. And I hope she puts a little spice into the orchestra. If anything, her commitment to new music should be applauded and welcomed. Her track record indicates an interest in fresh, inventive programming—something Baltimore hasn't had much of in a while. If she isn't the second coming of Christ, who cares?