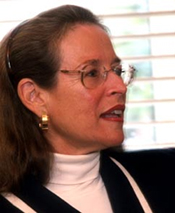 San Francisco's favorite arts patron: Kathryn Gould
With arts funding becoming more and more scarce as the economy continues to stall, a single donor who agrees to fund the creation of 9 new orchestral pieces is nothing less than a godsend. In the case of the San Francisco Bay Area, venture capitalist Kathryn Gould has agreed to contribute $375,000 to a revolutionary commissioning project that will, over five years, yield 9 world premieres by 9 composers. Gould, an accomplished violinist herself, has always had a passion for music, but explains, "I have often felt alienated from the music of my time and I wanted to do something about it." She decided that the best way for her to reconnect to music was to play a role in its creation, and thus conceived of MAGNUM OPUS. "Commissioning new works through MAGNUM OPUS has proven that I can be involved in a way I had not thought possible. It will also allow me to light the way for other individuals to support new music, which we clearly need."
Upon the advice of Paul Brest, the president of the William and Flora Hewlett Foundation (and also a violist in Gould's string quartet), Gould was led to Meet The Composer, a service organization for American composers. While the concept remained Gould's, Meet The Composer, under the leadership of Heather Hitchens, used its resources to help develop and implement MAGNUM OPUS. The project provides a structure for the creation of 9 new orchestral works by 9 composers over a 5 year period to be performed by three Bay Area orchestras: the Oakland East Bay Symphony (Michael Morgan, music director), the Santa Rosa Symphony (Jeffrey Kahane, music director), and the Marin Symphony (Alasdair Neale, music director). A one-week composer residency with the orchestras will precede each premiere and, as a result of the programs most appealing feature, each piece is to receive a repeat performance within 5 years. The project aims to engage the substantial wealth of the Bay Area in a commissioning initiative that will not only produce a much-needed body of new orchestral works, but also establish a model for new music patronage.
In fact, MAGNUM OPUS will be the first manifestation of Meet The Composer's New Music, New Donors plan that aspires to create model programs that facilitate the commissioning of works by individuals in a "direct, proactive, and personal way." As Hitchens points out, alternative fundraising methods are keys to the creation of new music in the current economic climate in which funding from large institutions, a mainstay in commissioning resources, is limited at best. In addition, by encouraging listeners and audience members to become involved in commissioning, the distance that often exists between audiences and contemporary music can be bridged, by, as Hitchens states, making "commissioning the most natural impulse and part of the cultural infrastructure."
The first three commissioned composers are an eclectic bunch: Ingram Marshall, Kevin Puts, and Kenji Bunch. While Gould was primarily responsible for the selection of the composers, a panel that included Hitchens and the three orchestra directors helped to bring names to the table and exercised veto power. The first premiere of a MAGNUM OPUS commissioned work will be a piece by Ingram Marshall at a concert by the Oakland East Bay Symphony in January 2003.
Marshall, who lived in the Bay Area for many years, was pleasantly surprised by the commission and, in his usual humble way, responded, ""I got a call from MTC and was told that I had been selected to receive a commission on the basis of the personal choice of the patron of the program, Kathryn Gould. I guess she liked my music!"
While Marshall is a seasoned composer, he, like most, hasn't had ample opportunity to write for orchestra. For the two younger composers, Bunch and Puts, the MAGNUM OPUS commissions will be key to developing and orchestral voice.
"Repeat performances can be difficult to come by, especially for orchestral works so this is ideal," Puts wrote from the University of Texas-Austin, where he is an assistant professor. "Not only can I refine a pieces over the course of three performances and benefit from three fresh approaches to the piece, but I get to spend time in the Bay Area every year for three years!"
Even as these first commissions are beginning to take shape Gould and the MAGNUM OPUS team are already preparing to select participants for the next round, which will take place during the 2004-2005 season. In addition to the orchestral pieces, Gould has also committed herself to pumping $150,000 into other works to be performed at Villa Montalvo in Saratoga, CA. The Gould Commissions will include a piece to be performed by the Eroica Trio in March 2004 and possibly works for Joshua Bell and the Kronos Quartet.
THE COMPOSERS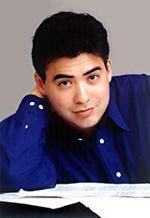 Kenji Bunch
Photo courtesy Young Concert Artists
Composer and violist Kenji Bunch is one of the brightest rising stars in contemporary American music. Mr. Bunch studied at The Juilliard School, receiving both bachelors and master's degrees. While at Juilliard, he was awarded several honors, including the prestigious Schuman Prize for Outstanding Leadership in Music and the Lillian Fuchs Prize for Viola. In 1998, he was chosen as Young Concert Artists' Composer-in-Residence by a panel of distinguished YCA alumni. During his two-year tenure, he wrote two works specifically for members of the Young Concert Artists roster, including Suite for Viola and Piano and Paraphraseology for marimba and violin, which was premiered by marimbist Makoto Nakura and violinist Stefan Milenkovich at Carnegie Hall's Weill Recital Hall and recently released on Kleos Classics.
Other commissions include Chorus Mysticus for the Phoenix Symphony, Concerto for Piano, Violin, Cello and Percussion, and Slow Dance for Piano Trio (both written for and recorded by the Ahn Trio), plus works for the English Chamber Orchestra, St. Luke's Chamber Ensemble, the Bridgehampton Chamber Music Festival, the Zoom! Festival of New Music, Collegium Novum-Zurich, the New Juilliard Ensemble, and Windscape.
Other awards Mr. Bunch has received include grants from ASCAP (1999 and 2000), Meet The Composer (1999 and 2000), and the >Leonard Bernstein Composers' Fund (2000). Mr. Bunch performs regularly as a violist, and plays fiddle in the bluegrass band Citigrass NYC.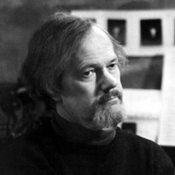 Ingram Marshall: Self-portrait
Photo courtesy Nonesuch Records
Currently living in Connecticut, composer Ingram Marshall has lived and worked extensively in the San Francisco Bay Area. Educated at Lake Forest College, Columbia University, where he worked with Vladimir Ussachevsky, and California Institute of the Arts, where he worked with Morton Subotnick, Marshall went on to study gamelan music in Bali and Java in 1971. Over the next several years, Marshall further cultivated his interest in Indonesian music and continued the experimental work in electronic music.
Certain characteristics of Marshall's music, such as the slowed-down sense of time and use of melodic repetition, can be traced to his study of Indonesian music. These characteristics can be heard in his earlier works such as Fog Tropes and Gradual Requiem, as well as in his more recent Penitential Visions and Sinfonia Dolce far Niente.
Marshall has performed his own live electronic music in the U.S. and Europe, and has collaborated with various artists and choreographers including photographer Jim Bengston and choreographers Stuart Pimsler and Paula Josa-Jones. Marshall has been the recipient of awards, grants, and commissions from the Rockefeller Foundation, the National Endowment for the Arts, the Fromm Foundation, California Arts Council, and the Washington State Arts Commission, among others.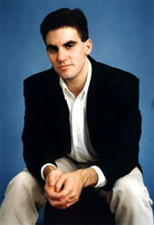 Kevin Puts
Photo courtesy Young Concert Artists
Kevin Puts, one of the most promising young composers in the U.S., has received many honors and awards. He served for two years as Young Concert Artists' Composer-in-Residence, was awarded a 2001 John Simon Guggenheim Memorial Foundation Fellowship, a 2001-2002 Rome Prize from the American Academy in Rome, the 1999 Barlow International Competition, and was the first undergraduate recipient of a Charles Ives Scholarship from the American Academy of Arts and Letters.
Organizations that have commissioned Mr. Puts include the National Symphony Orchestra, Spoleto Festival USA, Pacific Symphony, Ying Quartet, Norfolk Chamber Music Festival, and the New York Youth Symphony, which premiered his Concerto for Everyone at Carnegie Hall in 1999.
A native of Alma, Michigan, Mr. Puts received his bachelor's degree from the Eastman School of Music, where his principal instructors were Samuel Adler and Joseph Schwantner. He received his master's degree from Yale University, where he studied with Jacob Druckman, Martin Bresnick, and David Lang. He also participated in the Tanglewood Festival Fellowship Program, working with Bernard Rands and William Bolcom. Mr. Puts earned a Doctor of Musical Arts at the Eastman School of Music, studying composition with Christopher Rouse and piano with Nelita True. Kevin Puts currently serves as assistant professor of composition at the University of Texas at Austin.
THE ORCHESTRAS
Oakland East Bay Symphony (OEBS) was founded in July 1988, when musicians from the former Oakland Symphony and the Oakland Symphony League joined together to form a new orchestra. In 1990, Michael Morgan was named OEBS Music Director and began guiding the Symphony in the musical and philosophical direction it pursues today.
Under Maestro Morgan, the symphony has become a leader in music education for young people, bringing orchestral music into schools throughout Oakland and the East Bay. OEBS also collaborates with local ballet, opera, choral and theatrical groups, and performs at community events. The Magnum Opus project continues OEBS's commitment to commissioning and performing works by contemporary American composers. In addition to the three MO commissions, the 2002-2003 season features a new cello concerto by Jake Heggie—composer of the opera Dead Man Walking—and an orchestral piece by Afro-Cuban pianist/composer Omar Sosa.
Santa Rosa Symphony ranks among the five oldest orchestras west of the Rockies. Formed in 1928, almost a decade before the Golden Gate Bridge linked Sonoma County to the cultural attractions of San Francisco, Santa Rosa's local population numbered only 10,000 inhabitants. Fortunately, among this population was an audience passionate for classical music.
Today, this region's tradition of support for the musical arts remains strong and vital. As Sonoma County's premier cultural organization, the Santa Rosa Symphony continues to build a reputation for musical excellence, innovative programming, and a remarkable commitment to education for music lovers of all ages.
From its humble beginnings in 1928 through its current incarnation under world-renowned maestro Jeffrey Kahane, the Santa Rosa Symphony has grown into a highly respected regional orchestra. In addition to presenting more than 21 performances a year, the SRS also acts as the Orchestra-in-Residence at Sonoma State University.
The 2002-2003 season marks the 50th anniversary of Marin Symphony (MS), one of the oldest and most prestigious cultural organizations in Marin County. Founded by a small group of local professional and amateur musicians in the early days of the 1950's, the Marin Symphony has grown to include nearly 85 union and community players from throughout the Bay Area.
Maestro Alasdair Neale, who joined the orchestra as music director in 2001, continues the rich history of the Marin Symphony during the 02-03 anniversary season with six sets of concerts in the Marin Veterans Memorial Auditorium, several special event performances, holiday concerts, a family concert, the Bay Area Composers Symposium, and a young people's concert.
THE PATRON
As a founding partner of Foundation Capital, Kathryn Gould has a wealth of experience working with entrepreneurs to create market-leading companies. With a primary focus on investing in the telecom, networking and enterprise software sectors, Kathryn is currently on the boards of AirFiber, Chordiant Software (CHRD), Interwoven (IWOV), Shoreline Communications, and Vivace Networks. She has previously served on the boards of many successful companies, including Documentum (DCTM), Grand Junction Networks, Carsdirect.com, Rapid City Communications, Primary Access, OnStream Networks, and Applied Digital Access (ADAX).
Regularly recognized as one of the most accomplished venture capitalists, Kathryn was most recently featured on Forbes Magazine's "Midas List" of Tech's Best Venture Investors. Prior to founding Foundation Capital in 1995, Kathryn was a general partner from 1989 onwards with Merrill, Pickard, Anderson & Eyre.
Before becoming a venture capitalist, Kathryn distinguished herself in the early 1980s as vice president of marketing at Oracle Corporation during the company's formative years. In the mid-1980s, she founded her own executive search firm, recruiting numerous CEOs and VPs for a host of Valley startups. Earlier, she also held various marketing and engineering positions with Data Systems Design, Gould, Inc. and Bell & Howell.
Kathryn currently serves on the Board of Trustees of the University of Chicago, where she earned an MBA in 1978. She also holds a BS in physics from the University of Toronto. Away from work, Kathryn is a serious violinist, painter and pilot, and a frivolous boogie boarder.
THE ORGANIZATION
Meet The Composer was founded in 1974 as a project of the New York State Council on the Arts. Led by the visionary composer John Duffy, Meet The Composer sought to enable composers to make a living writing music, and to increase their visible presence as creative artists. In its first two decades, Meet The Composer has grown to become a national organization, serving composers of every kind of music throughout the United States. Through a range of commissioning, residency, education, and audience interaction programs, Meet The Composer has revolutionized the environment for composers in this country, establishing broadly accepted standards of payment and opening the doors for them to work in cultural institutions of all kinds.
Meet The Composer's mission is to increase opportunities for composers by fostering the creation, performance, dissemination, and appreciation of their music.