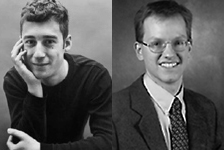 Beeferman and Schober
Gordon Beeferman and David Schober were singled out from a pool of young composers as winners of the 2003 BMI Foundation, Inc./Carlos Surinach Commissions. BMI-affiliated composers who have recently won a BMI Student Composer Award are eligible for the commission, which was named for the renowned Catalan-American dance composer and conductor Carlos Surinach. The commissioning program was created in 2000 and the first Surinach commission premiere was a piece by Kevin Puts performed by the American Composers Orchestra in 2002.
For this particular commission, BMI selects the performers and the performers then handpick the composer for their commission. This year the Albany Symphony Orchestra under the artistic direction of David Alan Miller and marimba soloist extraordinaire Makoto Nakura each had the task of making the selection. At the announcement of the commissions on March 4, BMI President Ralph N. Jackson described the commissioning program as "a unique competition in which the judges, in this case an orchestra conductor and a solo marimbist, are choosing composers to create works which they will premiere. The Foundation was incredibly lucky to be working with David Alan Miller and Makoto Nakura, two truly remarkable musicians, both of whom are outstanding champions of new American music."
The Albany Symphony opted for Brooklyn-based pianist and composer Gordon Beeferman, who already had a couple of orchestral works under his belt including his first symphony that was premiered by the Civic Orchestra of Chicago in 1999. Beeferman's work, Morbidity and Mortality Report, inspired by the weekly report from the Centers for Disease Control, will be premiered at The Troy Savings Bank Music Hall on March 14.
Nakura found his partnering composer in David Schober, a doctoral fellow at the University of Michigan who is particularly interested in East Asian cultures. Schober's solo marimba piece, Taepoong (the Korean word for typhoon), was premiered on March 3 in Tokyo and will receive its second performance in Seoul on March 15. Schober is particularly excited about this performance, saying "the Korean subject matter is finally finding its way back to Korea." The US premiere is scheduled for October 14, 2003 at Merkin Hall in New York City.