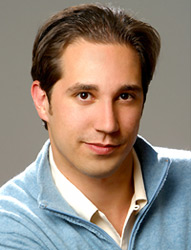 Benjamin C.S. Boyle
Photo by Christian Steiner
A panel of Young Concert Artists "alumni" musicians has selected 25-year-old American composer Benjamin C.S. Boyle as the 2005–2007 Young Concert Artists Composer-in-Residence. As part of his two-year residency, Boyle will write two commissioned works to be premiered by two new members of the YCA roster.
The first piece will be written for cellist Efe Baltacigil, who will premiere the work as part of his debut recitals in the Young Concert Artists Series next season at Zankel Hall in New York and at the Kennedy Center in Washington, DC. Boyle will also receive management services, publicity, and career development from Young Concert Artists.
Boyle is currently a Ph.D. candidate at the University of Pennsylvania and is on the faculty of the European-American Musical Alliance's (EAMA) summer program at L'Ecole Normale in Paris. He holds a bachelor of music degree from the University of South Florida, a master of music from the Peabody Conservatory, and has studied at La Schola Cantorum in Paris. His teachers have included David del Tredici, Christopher Theofanidis, Samuel Adler, Lukas Foss, Nicholas Maw, and Narcis Bonet.
The panelists that selected Boyle include Kenji Bunch (composer), Jeremy Denk (pianist), Eugene Drucker (violinist), Paul Dunkel (flutist), Ani Kavafian (violinist), Ida Kavafian (violinist and violist), Christòpheren Nomura (baritone), Ursula Oppens (pianist), Todd Palmer (clarinetist), and Hiroko Yajima (violinist). YCA's four previous composers-in-residence, still members of the roster, are Mason Bates, Kenji Bunch, Daniel Kellogg, and Kevin Puts.