It's now slightly more than 24 hours since I arrived in Cannes for MIDEM, and it has been quite a full day. After posting my initial impressions on these pages, I spent the rest of the afternoon attending a series of panels called MidemNet. The general theme of these panels was music ubiquity; specifically, how to develop cloud-based music technologies that are effective for consumers but which are also remuneratively viable for music creators and the people who represent them in the music industry. There is a still not a great deal of consensus on how this is possible and from time to time talks got really heated—as when Harry Maloney, CEO of Catch Media (UK), took mSpot CEO Daren Tsui to task because he started his service (which enables customers to hear their music collections on their mobiles or anywhere else at the touch of a button) before properly securing all the requisite licenses. Tsui defended his position saying, "Our premise is that we believe it is not our job to police how people get their music." But as others on the panel pointed out, if people feel they can back up their collections and have access to them anywhere and there is no way for the rights' holders of that music to be remunerated in the process, music creators and interpreters will not be paid in what is fast looking like the future of music.
Right before the brouhaha, Michel Barnier from the European Commission had given an impassioned plea for all of us to realize that in addition to music's cultural value, it also has monetary value and legal protection. Barnier was the only speaker to give his talk in French which added a timbral variety to the day's procedings. Luckily there was an on-screen translation since my three years of French study in high school gives me the ability to order wines and make an occasional pithy comment but I'm hardly equipped to process an in-depth conversation which already would have barely made sense in English. Perhaps the most colorful speaker of the day, however, was DJ David Guetta who was France's top export artist last year. Guetta was euphoric in his praise for the marginalization of gatekeepers:
Every kid can make music and I think that's fanastic because it's all about ideas, not being a virtuoso or being lucky enough to be signed by a record company.
But I can't help feeling that there still are gatekeepers, just different ones. After the barrage of speakers, I could not help walking away feeling that the folks who are calling the shots and making lots of money in the new marketplace are the technology companies and the internet service providers (ISPs). But even Vivendi France's CEO Jean-Bernard Leávy, despite decrying various governments for not sufficiently combating music piracy, would not discuss ISPs since in addition to owning Universal Music, Vivendi also owns ISPs.
Today, I have not yet had a chance to attend any of the MidemNet Academy, but you can experience everything going on here online at blog.midem.com and at twitter by searching #MIDEM. (I was pretty active there yesterday.) But for the past few hours, I've been attempting to navigate through the sea of exhibitors–everyone from the Texas Music Office to the Iran Music Office. There's a very wide range of music represented here even though folks who have attended previous MIDEM gatherings claim that this is half the size of what it was only a few years ago. I'm still pretty overwhelmed by it, but I'm trying to meet with as many people as possible. So now back to the whirlwind.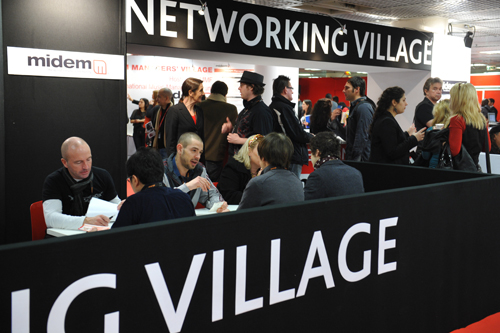 Photo courtesy MIDEM