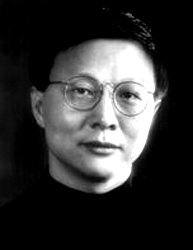 MacArthur Fellow Bright Sheng
Photo by Wah Lui, courtesy Schirmer
Composer Bright Sheng has been named one of this year's 23 recipients of MacArthur Fellowships granted by The John D. and Catherine T. MacArthur Foundation. The prestigious award recognizes exceptional individuals working at the fore of a wide variety of disciplines — from astrophysics to creative writing. Seeking to support the Fellows' "demonstrated potential for still greater achievement," each receives $500,000 over five years of "no strings attached" support.
Bright Sheng, 45, currently a professor of music at the University of Michigan, was recognized by the Foundation as an "innovative composer who merges diverse musical customs in works that transcend conventional aesthetic boundaries." In addition to his own compositions, his work as a conductor and pianist, as well as his role as an advisor to the Silk Road Project, show him to be "a fresh voice in cross-cultural music, exploring and bridging musical traditions."
In an interview the day of the announcement (which interrupted his practicing), Bright Sheng sounded as if it all hadn't sunk in yet. "I think it's a fabulous award, and I'm really terribly honored and thrilled," he said.
But Sheng doesn't expect the half-a-million-dollar-MacArthur Fellowship to change much about him. Hopefully, though, it will allow him more room to create. "I don't think I will change the way I write, change the way I work. But it does give me some freedom, financial freedom to do the things I want to do. I might take a year off from teaching — to go to places, do projects."
"This is such a prestigious award, but our country is in turmoil," Sheng acknowledges. Like many artists, the current international crisis has forced Sheng to start asking himself some hard questions. "As an artist or musician, what can I contribute at a time like this?" he asks rhetorically, "because personal and career achievement seem so trivial and frivolous and marginal."
Sheng recalls the last time he was this angry — when Chinese troops opened fire on the student demonstrators in Tiananmen Square in 1989.
He was so upset at the time, he called his teacher and asked what he should do. He remembers being told, "You just keep doing what you always do and have faith in what we do."
Receiving the MacArthur has reaffirmed for Sheng that "apparently what we do [as composers] does make a difference. It certainly is reassuring that what we do and what we believe in does make a little bit of difference to the society. I always feel that we must have faith in what we do, and being an artist itself is a faith because it takes tremendous creative stubbornness for each of us to continue doing what we do."
Since the Fellowships recognize achievements in so many different disciplines, Sheng also points out, "It's great that I got it, but it's not just an honor to me, it's an honor given to artists, to all artists, maybe particularly composers."
Also in the music field, 39-year-old British concert pianist Stephen Hough was recognized for "revealing masterworks from the pens of less well known composers from the past and challenging compositions from those of the present." His 1998 release, "New York Variations," featured the first recordings of John Corigliano's Etude Fantasy and George Tsontakis's Ghost Variations.
In a statement released by the MacArthur Foundation, President Jonathan Fanton noted, "The announcement of the MacArthur Fellows offers an opportunity to focus on the importance of the creative individual in society. Whether working alone or within an organization, these are people who provide the imagination and fresh ideas that can improve people's lives and bring about movement on important issues."
"Most of the MacArthur Foundation's funding is intended to support the creative efforts of organizations and institutions," Fanton added, "yet we also understand that individual leadership, initiative, and creativity can provide the spark that moves great enterprise forward."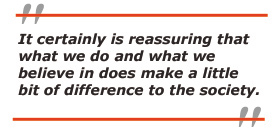 Since the program began in 1981, 611 Fellows have been named, ranging in age from 18 to 82. Daniel Socolow, the program's director, noted that this year's fellows join a group of "original and creative people of all ages and groups across a wide array of human endeavors, linked together by their individual commitments to discovering and advancing knowledge and to improving society."
There is no application or interview process for the MacArthur Fellowship, and recipients are not told how the funds are to be used nor are they asked to submit after-the-fact reports as to how the money was spent. Notification comes in the form of a phone call from the Foundation.
It's a system that begs the question, "So what does it feel like to get that phone call?" Sheng says he received an email message from his dean alerting him that he would receive an "important phone call" on Thursday afternoon. When the MacArthur Foundation representative reached Sheng, he asked him if he was familiar with the foundation and the fellowship. "I said, 'Yes. You used to give those to composers, didn't you?' And he said, 'Yes, and we're about to give it to another composer you know very well.' "
Laughing, Sheng admits that at the time he was thinking, "Why do you want to tell me that?"
Several hundred anonymous nominators for the Fellows Program are called upon over the course of a year to identify exceptionally creative people working in their field. A 12-member selection committee drawn from the arts, sciences, humanities, and non-profit communities then makes recommendations to the foundation's board of directors.