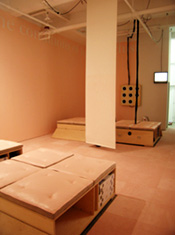 Stephen Prina's The Second Sentence of Everything I Read Is You: Mourning Sex, 2005–07
I made my de rigueur pilgrimage to the almighty velvet-roped temple of contemporary art, a.k.a. the 2008 edition of the Whitney Biennial. Every other year the cognoscenti mingle with curious tourists and working schmoes and gawk at this supposed art-trend barometer of the now—everything that's hot, all under one roof. However this time around, the action isn't so neatly contained inside the gallery walls of the Whitney. Turns out that the most compelling work—including all of the performance art, music, dance, and all the hybrids in between—takes place at the Park Avenue Armory where you can drink homemade tequila with artist Eduardo Sarabia and listen to Marina Rosenfeld's choral cover version of Ligeti's orchestral piece Lontano featuring 40 teenaged performers. There's also a Brian Eno-style chill space decked out with cots, concocted by DJ Olive. Called Triage, part of Olive's Sleeping Pill series, visitors will be invited to the installation on March 22 for an overnight slumber party offering some deep ambient detoxification. And this is just the tip of the iceberg. Checkout the Whitney's website for the details on events by Gang Gang Dance, Lucky Dragons, and New Humans.
As for the Madison Avenue Whitney headquarters, the gallery exhibition itself isn't that much of a marvel. Sonically speaking, there isn't much happening aside from the audio emanating from various film and video installations peppered throughout the galleries. The most musical application of sound comes from artist Stephen Prina. His The Second Sentence of Everything I Read Is You: Mourning Sex, 2005–07 wafts spatialized guitar picking and the artist's vocals within a fleshy, pink room littered with the four packing crates that the installation's components travel in, adorned with padded monochromatic cushions on top for views to lounge upon. It's like some makeshift comfy spot made by the roadies, so they can take a long, relaxing break during the stage show. The piece is definitely in line with the transient, almost under-construction vibe that a lot of the other works in the galleries exude.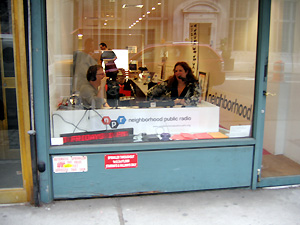 Tune in to NPR on Wednesdays – Sundays 11 a.m. to 6 p.m. EDT and Fridays 1 p.m. to 9 p.m. EDT until May 31, 2008 here.
One of my favorite things associated with the Biennial is housed just next door to the museum, in a storefront previously occupied by a high-end shoe retailer. Things might look a little disheveled inside—foamcore-mounted posters, random leaflets, empty takeout containers, laptops, and noise-making toys litter the floor and the folding tables and chairs—but don't let the haphazard appearance scare you away. Definitely go inside. Welcome to the temporary control center of the Bay Area-based collective Neighborhood Public Radio.
When I arrived, there was a slew of teenagers hovering around the front window, most likely lingering from an NPR outreach program. After wading through the mini-crowd, I entered. Far from the hermetically sealed, tech'ed-out recording booths utilized by the national moniker-sharing entity they often mock, this NPR is something like guerrilla art verging on community service. NPR's focus and content is nebulous at best, but this is exactly what makes its impact so powerful—it's a snapshot of the surrounding community with everyone, and I mean everyone from the well-behaved bum asking for change to the adventurous museum trustee willing to drop in, at the helm.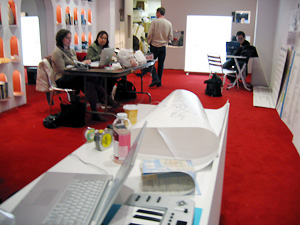 NPR's blog can be found here.
As the door swung closed behind me, I passed NPR's LeE Montgomery interviewing, from what I gathered, a Whitney staff member. Once it was announced that it was the interview subject's birthday, fellow NPR artist Michael Trigilio bounded across the room and grabbed the mic from Montgomery. After a soul-drenched improvised prelude that extended a minute or two too long for comfort, the rest of the crew joined in for a sloppy but damn spirited rendition of "Happy Birthday." I was already having a great time.
I was introduced to photographer and NPR member Jessamyn Lovell and asked her a few routine questions, then she went back to her laptop, a fellow crew member went back to her turkey and swiss sandwich, and I moved on to the wall of noisemaking gadgets on display. Impressive. As the banter around the office continued, I noticed most of the off-mic jokes seemed to center on the number of people listening to the broadcast—or indeed if anyone was listening at all. Lovell announced, "I'm getting tons of IMs from listeners all around the world as we speak." After another comical outburst from Trigilio, Lovell confided that if anyone was actually listening, they'd be thinking, "This is so amazingly weird, but in a good way." My thoughts exactly.
NPR's motto is: If it's in the neighborhood and it makes noise…we hope to put it on the air. And that's exactly what they do. After leafing through some fliers and waiting patiently for his turn, an older gentleman who had the appearance of someone, shall we say, down on his luck, got his chance to deliver a surprisingly succinct rant about Mayor Bloomberg, some database of low-level criminals' DNA he wholeheartedly disagreed with, and the act of spitting on the sidewalk, which became a reoccurring theme as he vented. After his ten-minutes of fame, Lovell tried to get the man's name and number so they could invite him back for a scheduled time slot. No luck. Meanwhile, two musicians were setting up laptops and guitar amps, readying themselves for a live on-air performance. NPR allows anyone from the community to stop by or email them to schedule up to an hour of airtime for their own show, but they leave gaping holes in the time grid to allow passers-by and museum visitors a chance to share their two cents with the world. Rest assured that from moment to moment, whether scheduled or freeform, you never know what you'll be listening to on NPR. By the time I left, they convinced me to come back so they could interview me on the air. While a wandering conversation by an unknown like myself would be of no interest to a national audience, it sure is interesting to hear what your neighbors are thinking. I'm planning to tune in often.