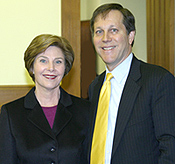 Mrs. Laura Bush and NEA Chairman Dana Gioia at the news conference announcing the proposed increase.
Photo by Jim Saah
President George W. Bush is requesting an $18 million budget increase for the National Endowment for the Arts to fund a major new initiative, American Masterpieces: Three Centuries of Artistic Genius, Laura Bush announced today. To this announcement was added the fanfare that "the President's request would raise the Arts Endowment's budget by $18 million from $121 million in FY 2004 to $139.4 million, the largest increase since 1984."
Though it's easy to be cynical about the NEA these days, the $18 million figure seems a sad commentary on the value placed on art by the America government rather than a vote of support. Nothing new there, but considering the price tag of other government projects recently in the news (What's $140 million compared to $87 billion?), a striking statement all the same.
Even so, the New York Times reports that Representative Tom Tancredo, Republican of Colorado, opposes the increase. "We are looking at record deficit and potential cuts in all kinds of programs," Tancredo told Times reporter Robert Pear. "How can I tell constituents that I'll take money away from them to pay for somebody else's idea of good art? I have no more right to do that than to finance somebody else's ideas about religion."
Now, American Masterpieces, which the majority of the increase is slated to support does sound like a program worthy of cheerleading—a three-year plan to "combine arts presentations with education programming to introduce Americans to the best of their cultural and artistic legacy." A spokesperson for the NEA said that specific plans and the names of music works to be featured have not yet been released.
Announcing the increase with Mrs. Bush, NEA Chairman Dana Gioia explained that the program will reach hundreds of cities, large and small, across all 50 states, as well as thousands of schools and dozens of military bases. "American Masterpieces is the most ambitious undertaking in the NEA's history…We will bring the masterpieces of American culture from painting to modern dance, theater to jazz, classical music to literature." The program will support touring, local presentations, and arts education. While NEA grants must be matched on a one-to-one basis by the organization receiving funding, the NEA expects that "many organizations raise up to eight times the amount."
The launch of the American Masterpieces program comes on the heels of two other initiatives. The NEA Jazz Masters program has been expanded to six honorees who now will receive awards of $25,000 each, in addition to an added touring component and commemorative CD. Shakespeare in American Communities, which is being given a strong push by Gioia and the NEA as a prime example of what the organization can be to American society, is bringing professional productions of Shakespeare and educational activities to communities across the country. The fact that Shakespeare is not an American artist seems to have passed without comment.