While lakes, Mount Rushmore, cheese, and snow may dominate common perceptions of Minnesota, the Dakotas, and Wisconsin, the Bush Foundation is making a strong case for these states to be recognized as a hotbed of artistic activity. Since 1976, the Bush Artists Fellows Program has supported artists based in these four states whose work reflects the diverse geographic, racial, and aesthetic communities of the region. This year, fellowships were offered in the areas of literature, music composition, scriptworks, and film/video. Fifteen artists were selected for fellowships from a pool of 475 applicants. Among the honorees were composers Philip Blackburn, Tellef Johnson, Michelle Kinney, and J.D. Steele. (A complete list of winners can be found below.)
In addition to the recognition, the program offers a substantial cash award of $44,000 to support the artists during the length of their fellowships, which range from 12 to 18 months. In total 7 areas in the arts are recognized with Bush Fellowships, being granted in a two-year cycle. Next year's areas will be two-dimensional visual arts, three-dimensional visual arts, and choreography/multimedia/performance art. The next round for music composition will be in 2005.
Recipients can be at any point of their career and are free to use the time and money at their discretion, whether it is exploring new directions, continuing a project that has been in the works, or simply feeling free to work on their art without worrying about finances. Johnson, based in Brookings, South Dakota, is particularly impressed with the Foundation's encouragement of "risk-taking and exploring new directions." Certainly, this fellowship is particularly unique in the land of arts grants because it is aimed toward artists whose works tend to extend outside of delimited artistic genres. This year's selected composers embrace music theatre, visual art, film, and poetry as integral parts to their musical visions.
Kinney, a Minnesota native, is delighted to be recognized by the Foundation. Her excitement evokes the energy of James Brown. "To know someone out there heard what I was saying and replied with, 'Get on up, stay on the scene!' This is an incredibly powerful gift. [It] makes me feel renewed," she shares.
"It was a great shot in the arm," Steele agrees. Steele, who moved to the Twin Cities from Gary, Indiana, in 1976 to work in marketing, has since become a mainstay of the region's music community focusing on gospel, blues, jazz, and music theatre.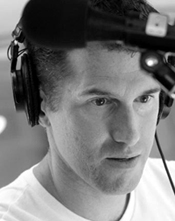 Philip Blackburn
Philip Blackburn, a St. Paul-based composer and the talent behind the American Composer Forum's innova record label, says he is "flabbergasted to have received recognition as a composer from the Bush Foundation." While he has been a successful grantwriter in the past, most of the funds he has secured have been for the ACF, and he is excited to keep this one to himself. "It is doubly welcome, as my work as an environmental sound-installation artist tends to fall between many artistic cracks. Now I have the chance to do some of the things that have been put aside for years." Because Blackburn's output includes instruments, installations, and sound sculptures in addition to scores, his compositional process is a little more expensive than the norm. The Bush Fellowship money will allow him to travel to, as he calls it, "Deep Listening-ville," Sound Symposium in Newfoundland, and Belize, where he is planning a 92-acre sound park in the rainforest. Blackburn points out that perhaps his most important trips will be "to Home Depot to construct new listening devices." In addition, the people of the Twin Cities will have several temporary installation-performances from Blackburn to look forward to (one involving 1250 gladioli).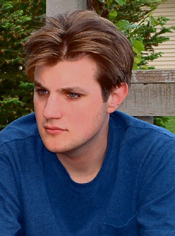 Tellef Johnson
Like Blackburn, the other fellowship winners are eager to get started on a diverse array of projects. This summer, Johnson, who studied piano, music composition, and playwriting at Juilliard, will be directing a 40-minute film inspired by an orchestral piece that he composed. He is also looking forward to setting two Nabokov poems, one sacred and one profane, for big band.
Kinney explains that the fellowship came at a most opportune time in her life, having recently returned to Minnesota after a 13-year stint in New York City. "I'm starting over again in the Twin Cities, re-establishing a place for myself here and seeking out new opportunities to compose and perform." A cellist who has played with Sheryl Crow and Henry Threadgill among others, her main musical focus has been improvisation and extended technique and she plans to continue her work scoring poetry for improvising vocalists and chamber ensembles. A performance scheduled for November at the Walker Art Center in Minneapolis will allow her to mix friends from New York with friends from the Twin Cities, a concert which she foresees as the beginning of a great relationship between the two areas. "I hope to keep working with musicians from both cities and to provide contexts for inter-city connections between musicians, and possibly new opportunities for collaborations."
"I also want to pull myself up a few notches, technically and professionally," Kinney continues. She plans to use the time to teach herself some interactive software programs, notational programs, and basic recording and editing techniques. Armed with new skills, she hopes then to be able to expand her orchestrations.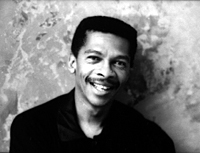 J.D. Steele
And if anyone has grand plans for the fellowship, it is J.D. Steele. Steele plans to use his fellowship to develop a couple of ideas into musical theatre works and get them produced in the area. An active performer, Steele tours and records with his family, a group called the Steeles, and recently collaborated on a musical with his sister Jevetta in Minneapolis. The show's great local success has brought it to the attention of Broadway. Steele is no stranger to Broadway, having been a member of the original cast of Gospel at Colonus (starring Morgan Freeman), which came to Broadway after touring the world.
And as if his musical activities weren't enough, Steele is also involved with the 10,000 square-foot Angel Beach Studios and is deeply interested in educational pursuits. "I love working with children. Anytime I do residencies, I love going in and working with K through 12 students on musical projects." Most recently, he completed an album in collaboration with the Southern Poverty Law Center in Alabama, one of the most effective civil rights organizations in the country that, as Steele reminds us, bankrupted the Ku Klux Klan. Called Teaching Tolerance, the album introduces children in grades 3 through 6 to different cultures through music. "In the multicultural climate that we live in, in this world, you know how bad we need that. And if we start with the kids, then they grow up to be more understanding and more tolerant and more respectful of different cultures."
With the fellowship, Steele hopes to continue working with young people. "I want to do a music workshop for kids, between grades 7 and 12. For kids who feel that they have some talent or are interested in learning about the music business. I want to teach them about music copyright law, publishing, licensing; I want to show them in a simplistic way so they can understand it." Through the workshops, Steele wants to prepare young musicians for the business, helping them to understand the language of contracts and also helping them to get hands-on experience with compositional and recording processes at the studio.
But as the recipients readily admit, their activities are only the tip of the iceberg of the immense creative community in the region. "It is truly an honor in addition to a stroke of serious luck to be a recipient of this opportunity," Kinney said. "All the finalists are gifted, striving composers, and I know serious luck carries one over that last hurdle."
"There's so much talent around here, I can't even tell you," Steele concurs. "These are the people that I've been surrounded with for years and everybody is just still pushing, pushing, and having a great time doing it."
This year's recipients were chosen by a five-person panel that included composer Anthony Davis, playwright Erik Ehn, Artistic Director for Galapagos Art Space Boo Froebel, film/videomaker Yvonne Rainer, and fiction writer Shawn Wong.
Complete List of Winners
MUSIC COMPOSITION
Philip Blackburn—St. Paul, MN
Tellef Johnson—Brookings, SD
Michelle Kinney—Golden Valley, MN
J.D. Steele—Minneapolis, MN
FILM/VIDEO
Liza Davitch—Minnetonka, MN
Jenny Lion—St. Paul, MN
David Ryan—Northfield, MN
LITERATURE
Mai Neng Moua—St. Paul, MN
Lee Roripaugh—Vermillion, SD
David Treuer—Minneapolis, MN
Ka Vang—St. Paul, MN
Wang Ping—St. Paul, MN
SCRIPTWORKS
Vincent Delaney—St. Paul, MN
Adelaide MacKenzie Fuss—Black Hawk, SD
Kevin Kling—Minneapolis, MN