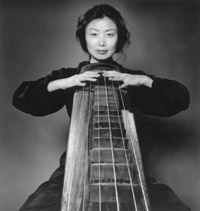 Jin Hi Kim
Photo by Camilla Van Zuylen
Korean-born komongo virtuoso and composer
Based in Connecticut
Compared to the Western music tradition, Korean music is not precisely written for every nuance of notes. The music is not absolutely fixed. Its notation is also designed for this concept: notes are given, but more important is the creation of each note through the individual musician's energy and gesture. In Korean pansori dramatic song, the singer shapes each tone generated with various articulation from Shamanistic vibration. This technique is called "sigimse." It is like spices in food. A good pansori singer makes spicy "sigimse." This concept was also practiced in the instrumental music. The concept of "sigimse (Living Tones)" is that each tone is alive, embodying its own individual shape, sound and sub-text. Its philosophical mandate came from Buddhism as a reverence for the 'life' of each tone, and the color and nuance granted each articulation came from Shamanistic expression.
When I learned Korean traditional music I experienced that I could learn the space within flexible time sense and "sigimse" in Korean music. However, there were limitations for me to recall the soul of ancient music and the soul of ancient "sigimse." My life was already in the new, contemporary time zone and different from my ancestors and my teacher. Therefore I had to discover my own soul within a new life context. My compositions for komungo, a development I have pursued over the past twenty years, represent an evolution of the instrument into the twenty-first century. I have created a wide array of compositions for the komungo as a soloist, collaborating with leading Western contemporary classical musicians, jazz musicians, improvisers, world musicians and computer MIDI system for the world's only electric komungo.
In 1995, the Korean Performing Arts Institute brought professional American musicians to Korea for a six-week intensive summer school. They studied traditional music at the National Center for Korean Traditional Performing Arts. It was impressive that they learned so quickly about correct melody and rhythmic cycles, but the difficult part for them was expressing "Living Tones." If they lived in Korea since they were young and were exposed to Korean music, culture, and life style they probably could come much closer to performing authentic music. On the other hand, there are many Asian musicians who play Western classical music well. I think this reverse situation is more possible, because the music was composed in the fixed manner that doesn't request much more than what is written. I feel that American-born musicians could play traditional Korean music if they understood the profound cultural concepts behind the musical system and had the right attitude about the function of traditional music in Korean society. But it would be very difficult for one to imitate the souls of others. The soul cannot be easily trained.