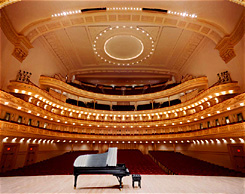 The interior of Carnegie Hall, New York, NY
Photo by Don Perdue
Carnegie Hall, that icon of American classical music culture, has announced its 2002-03 season. Robert Harth, the hall's personable new executive director, notes that despite the death of the hall's beloved champion Isaac Stern and a five percent drop in attendance post-September 11, "the commitment of the board and staff is unwavering" and the hall is expecting to rebound in the coming year.
Though the programming carries an expected number of traditional masterworks, it's balanced with a fair amount of contemporary programming. (Three separate concerts during the 2002-03 season even feature the music of John Cage.) When addressing this point, Harth commented that the hall challenges all visiting artists to "think outside the box" and to "plumb the depths of the repertoire to present concerts of great interest. That balance is very important."
Concerts by visiting orchestras such as Cleveland with Franz Welser-Möst, Cincinnati with Paavo Järvi, and Philadelphia with Christoph Eschenbach, will give New York a look at the new crop of music directors/music director designates – the result of last year's much-watched round of musical chairs.
Daniel Barenboim will open the season leading the Chicago Symphony Orchestra in an all-Ravel program. The performance also kicks off a season-long Focus On: French Music, which will highlight works by Berlioz, Debussy, Ravel, Messiaen, and Boulez.
And speaking of Boulez, he returns to The Richard and Barbara Debs Composer's Chair at Carnegie Hall from a year-long sabbatical. He will lead a retrospective of some of his major works, including a performance of Répons and the U.S. premiere of his most recent composition, Dérive II.
A complete list of the season's premieres includes:
World Premieres
Milton Babbitt: new work, American Composers Orchestra
William Bolcom: Medusa, Stuttgart Chamber Orchestra (Carnegie commission)
Dan Coleman: L'alma respira, American Composers Orchestra
David Lang: new work, American Composers Orchestra
André Previn: new work, Emerson String Quartet, Barbara Bonney, soprano (Carnegie commission)
Shulamit Ran: new work, American Composers Orchestra
Brian Robison: In Search of the Miraculous, American Composers Orchestra
Hsueh-Yung Shen: Autumn Fall, American Composers Orchestra
Hsueh-Yung Shen: Legend, American Composers Orchestra
U.S. Premieres
Pierre Boulez: Dérive II, Ensemble Intercontemporain
Pierre Boulez: Figures-Doubles-Prismes (revised version), Orchestre National de Lyon
Oliver Knussen: Violin Concerto, The Philadelphia Orchestra, Pinchas Zuckerman, violin
New York Premieres
John Harbison: Four Psalms, American Composers Orchestra
John Harbison: Requiem, Boston Symphony Orchestra
Alma Mahler: Selected songs (orchestrated by Colin and David Mathews)
Cindy McTee: Ballet for Orchestra, National Symphony Orchestra
Einojuhani Rautavaara: Clarinet Concerto, National Symphony Orchestra, Richard Stoltzman, clarinet
Kaija Saariaho: Nymphea Reflections, National Symphony Orchestra
Kaija Saariaho: Orion, The Cleveland Orchestra
Rodion Shchedrin: Dialogues with Shostakovich, Pittsburgh Symphony Orchestra
Tan Dun: The Map, Boston Symphony Orchestra, Yo-Yo Ma, cello
Erkki-Sven Tüür: Exodus, Cincinnati Symphony Orchestra
The celebrated Perspectives series – which allows an invited artist to program a concert series highlighting personal tastes and interests – will be led this year by Mitsuko Uchida, Gidon Kremer, and James Levine. Also anticipated will be the Carnegie Hall recital debuts of violinist Hilary Hahn, countertenor David Daniels, bass-baritone Thomas Quasthoff, soprano Angelika Kirchschlager, baritone Simon Keenleyside, and mezzo-soprano Susan Graham.
Harth, who came to Carnegie after Franz Xavier Ohnesorg's rocky tenure, was previously head of the Aspen Music Festival and School. He has yet to really be able to make his mark at Carnegie Hall since much of the season was set by his predecessor. It was his responsibility, however, to subject the season to some "judicious trimming." One of the most dramatic cuts was the dissolution of the hall's jazz orchestra. Though a "commitment to jazz remains" at Carnegie Hall, Harth said it was necessary "to respond to changing audience tastes and provide for a wider variety of artists." The season does still include the co-presentation of three JVC Jazz Festival concerts in June and three Verizon Music Festival concerts in September.
On the financial front, Harth says that like all city arts institutions, Carnegie has also been hit by government funding cutbacks. The hall has seen a 15 percent cut in operating support from the city. However, Harth seemed optimistic about the progress made on and funding for the $100 million Judy and Arthur Zankel Hall, the complex's new third venue still under construction. He says the city is responsible for about 34 percent of that total, most of which has already been received or contracted. The three-year series "When Morty Met John…" will take a break this season so that it's final program can be presented in the new hall, the opening of which Harth has planned for next year.