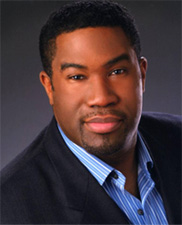 Eric Owens
Photo: Paul Sirochman
Whether standing center stage under the spotlights or sitting just across a table while chatting over coffee, Eric Owens only has to utter a few lines to have his audience completely entranced. The warm rumble of his speaking voice hints at the powerful bass baritone he unleashes on stage, often in the service of contemporary composers such as John Adams, Elliot Goldenthal, and Michael Daugherty.
Owens was in New York this fall to play General Leslie Groves in the Metropolitan Opera's production of John Adams's Dr. Atomic. It's a role he originated in the work's 2005 world premiere at the San Francisco Opera and which has grown along side him though multiple productions. Still, stepping out onto the Met's stage delivered a special emotional punch.
"It didn't all hit me until the curtain came down after the first performance," Owens admits. "Before then, you're working hard and rehearsing hard and trying to put your best up on the stage. But when the curtain came down, I could finally take in the occasion of it all and sort of pinch myself—because just singing at the Met is a dream come true for me."
Born in Philadelphia in 1970, Owens has appeared on a number of acclaimed stages in the course of his career, but he had a particularly strong connection to the Metropolitan Opera, having grown up listening to their weekly radio broadcasts. Back then, however, he still had no idea that opera would become such an important part of his life. His teen years were actually spent studying the oboe, and it wasn't until his early 20s that he turned his focus to becoming a professional singer. Given the choice between the two, pursuing vocal studies presented itself as the more practical option—as practical as any career path in the performing arts can be, at least.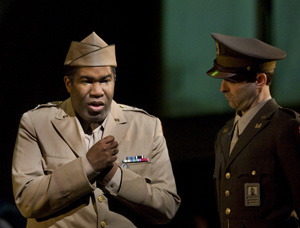 Owens as General Leslie Groves in John Adams' Dr. Atomic
Photo: Ken Howard/Metropolitan Opera
Owens credits his instrumental background for laying the groundwork that has allowed him a certain ease with new music and the demands of contemporary composers. But stepping out from behind his instrument felt like the most natural thing in the world. "I just thought it was the most incredible thing that the human voice could do something like this," he explains. "There's this wonderfully personal element to singing because there's nothing between you and the music: You are the music. You're not holding some thing in your hand, depending on it to do your bidding. It's definitely something that's external, whereas singing is something very much internal and very personal."
Owens has gone on to perform and record a significant range of operatic and concert hall repertoire, both old and new. Through it all, he's managed to maintain both his focus and his perspective.
"Looking back, there's no reason whatsoever I should be doing this, as far as my background is concerned," he admits. "It's just something that I was drawn to and seeing how things progressed, it was definitely a calling for me. This is really what I'm supposed to be doing, and I couldn't be happier."