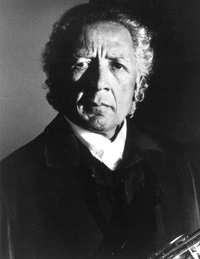 Saxophonist Charles Lloyd commissioned to write for the San Francisco Jazz Festival
Photo courtes
In town for a gig at the Blue Note, Charles Lloyd sat down to talk with me in an upper room of a Greenwich Village apartment on a rainy Friday morning. Over the steady drip of water hitting the chimney flue, he spoke about music, his San Francisco Jazz Festival commission, and his great friend Billy Higgins.
From the quiet smile that comes over his face when I ask him to tell me about his friendship with Billy Higgins, I don't really need any more of an explanation. Still, he begins. "Well, he's a very good musician. But more than a musician, he's a healing man, Billy Higgins. He's a great drummer and he's been my friend since I was 18, 19 years old, so we sort of grew up around each other."
Over the years, though separated at times by geography, the friendship endured. "He stayed so dear and so close to me:I went away and lived for many years a quiet life in Big Sur, California, away from the city, and I lived in solitude. We got back together to play music sometimes in the early '90s and there was no gap. We didn't have to have a conversation about it. It was like breathing, it was the most natural thing and so we became more and more devoted to each other."
Throughout, Lloyd maintained an admiration for Higgins both personally and professionally. "In the history of drum I think he was the most beautifully wondrous when it comes to nuance. He could take the most simple kit of percussion instruments and get these glorious sounds.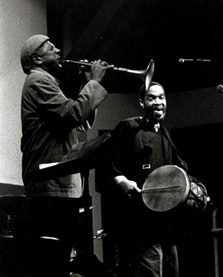 Lloyd and Higgins share a transcendent moment on stage
Photo by John Ballon
"He was universally loved and admired. He was also devoutly spiritual." Lloyd remembers Higgins telling him that "we have different paths but all paths are true if one is sincere." When they came together to play, "we met up in a place were there weren't lines of demarcation — you know that notion of only my watch keeps very good time, none of that kind of thing. It was just that openness to the wonders of the creator."
Lloyd and Higgins made three recordings together on the ECM label: Voice In The Night, The Water is Wide, and Hyperion with Higgins.
"I'm really happy that we got his drum sound on those recordings, to document his nuance and quality. When I was thinking about recording [The Water is Wide] I had this notion:I wanted to offer tenderness to the world, cause I keep seeing such harshness all around, and that's what I was trying to say there. A man came to interview me from the New York Times, and said 'I keep reading about tenderness. What is this tenderness?' and I hope now when he listens to his tape he'll hear."
With all of the harshness in the world, most recently manifested in the terrorist attacks on New York and Washington, Lloyd's sentiments seem especially poignant. "We're all children of the infinite. We all should be kind to each other. I can't figure out all these different polarities:I'm just all music now, all this is music," he says, pulling at his hands and wrists. "I don't have any more. I don't have anything but music anymore, it's all that's left. It's my way of trying to be of service, of service to humanity."
Lloyd says he was honored and touched to receive the SFJAZZ commission. "That's a very wonderful festival they have out in San Francisco. And I have to compliment them on the quality and the breadth and the range of what they try to do."
In the days before his death on May 3, 2001, Higgins told Lloyd that he would continue to be with him in the music. "He said 'I will always be with you', so he's in me. I won't have to be modulating with him" for him to be part of the performance in San Francisco.
"So what's to come out of it," he says, suddenly leaning in towards me. "I've developed themes and I've been thinking about just our spirit together. The things I've been working on, they all have his smile. This man had a smile that was just so compassionate, so touching. He lifts everyone up."
It reminds Lloyd of a story, a concert the two played some years before after which a number of children asked for autographs. The kids were told to wait until Higgins and Lloyd had finished their dinner, but Higgins wouldn't hear of it. Lloyd recalls: "Higgins said, 'No, they're children, they don't wait. 'Cause in a couple minutes, they'll be into something else. We've got to do this now for them.' And Higgins was always like that and we were like children together. We'd play in the now."
"So I didn't know how to go about this [commission]. And then a beautiful suggestion came from Randall Kline. He thought that Zakir Hussain with me would be something." Though he has never played with Hussain before, Lloyd does sense that he "has the sense of wonder that Billy had, and he's so great as a percussionist, and so much of the ecstatic is in him as a musician. I'm really very excited about it."
Despite coming from such different musical and ethnic backgrounds, Lloyd says, "I have this notion that we're going to embark on this journey together. I have these themes that so much have the spirit of Billy in them. I call him Master Higgins. So Master Higgins will have to come forth and as he always does he'll have to anchor us and also go in the dance with us. And when I say dance I mean an ecstatic spiritual dance."
Anticipating the night of the performance, Lloyd confesses, "I'm always shy and nervous about these things. I never got past that. This music will have such an improvisational character to it and quality:it will be about all of us and about the spirit of Billy." Almost painfully modest about it, he continues, "I'm just praying that we can do it justice. When Billy and I were playing duo, I would just trustingly go on this journey. And I just know that there's a deep place in the music and this is what I'm looking for now. I'm looking for that utter simplicity of the wisdom of the ancients, but with that deep place that that reservoir from which all creativity comes from. I just want to dive in.
"So although I'm not being helpful to say with words what this music will be. It's an open music and yet … I guess I'm trying to say that the audience will also affect the music because I hope the sensitives will come and we can share something of the hopes and dreams and aspirations for a better world which reside in each of us. That it will bring inspiration and consolation which is what I've always received from music and so I humbly go forth with a big trust and also gratitude for having known this very great spirit and I trust that since he's in me that there won't be anything impeding the communion and the communication."
When we spoke, Lloyd was still considering his options for the piece. "To be really candid with you, this is still a work in progress. Sometimes I think to invite a singer friend who was very close to Master Higgins, but I haven't resolved on that yet, but since Higgins and I used to play in a duo formation :I think the purity of Mr. Hussain and myself could be quite enthralling if the spirits are right."
Ultimately, he finds that any performance has about as much security as a high wire act. "We have no net. We don't even have clothing so we just have the, how would you say, the love of the creator. See, when you start playing music, whether you know it or not, you're singing a song to God, and to be playing this [commission] in this Grace Cathedral is something beautiful."
Hesitating, I ask him how he actually goes about writing a piece that seems so much left to improvisation and the mood of the evening, how much he establishes in advance and how much he just creates at the moment. Ever gracious, Lloyd indulges me though I feel naïve for having asked the question. "Well, I think I write from my heart or something in this case because I loved Higgins so much and we were so close. I love music so much but I don't know how to explain the process. I sit at home at the keyboard sometimes and I have all these sketches, these pictures, and it's like I have glimpses and I can see my friend clearer than I can see you. So I'm trying to pierce the veil. So I'm sorry if I'm not talking to you about scales. I don't approach it like that any more."