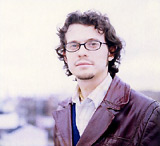 Scott Winship
Photo by Kathryn Gritt
Ok, so you've graduated from college. You've left that warm, fuzzy womb of institutional learning. They kicked you out and said, "Go get your music performed elsewhere." Now what the hell are you supposed to do? Or perhaps you live in an area of the country not well known for its commitment to contemporary music and your local performers snub their noses at your music. Where do you turn? Well, by golly, turn to Accessible Contemporary Music.
Nestled right here in the heart of Chicago, the ACM has been in business for about five years as a performing ensemble dedicated to emerging composers. The ACM's artistic mission is "to promote the performance and understanding of contemporary music, especially the music of living composers." They have as their target audience "both those already acquainted with contemporary music and those who may not even realize that there are people still composing concert music today."
People after my own heart, indeed.
I recently sat down with the co-founder of the ensemble, Seth Boustead, over a few quality pints, to discuss ACM and what they are up to.
My first question: What's up with the name? Seth's response, "Yeah, we knew we would alienate folks with the name." ACM is not necessarily a stylistically driven ensemble mind you. The name reflects more the commitment to bring contemporary music to those that may not yet know of its existence. Currently operating a four-concert series, ACM brings contemporary music into some non-traditional performing venues with the aim of taking "a very direct approach to concert giving, frequently including pre-concert talks and discussion sessions between the audience and the composer. Every concert that we give includes a world premiere or at least one piece, if not several pieces, by composers in the early stages of their careers." In addition, there's a much more lighthearted approach to contemporary music performance. "We didn't want to dress all in black or take it all too seriously," Seth told me. The goal is to bring audiences into the new music fold.
Growing out of this commitment to composers in the early stages of their careers, ACM took on a wonderful project this year called Weekly Readings in which they recorded a new piece of music from a different undiscovered composer every week. Receiving hundreds of scores through their initial call, ACM weeded through them all and picked pieces based first on the date they arrived and second on whether or not the composer really needed their help. Taking a stand for composers who have had few if any performances of their music, ACM strives to provide a quality (and much coveted) recording for these composers to be used for their own distribution or simply to learn from the experience. With only two hours of rehearsal time (which is generous in most cases), composers can really learn how effective they were in communicating the piece not only to the audience, but also just as vitally to the performers. ACM is providing these recordings not only to the composer, but also to the rest of the world via their website. Each week, a recording is posted on the website and sent out to those who sign up on their email list. The weekly reading sessions are currently on summer break, but ACM plans to bring it back in the fall, so dust off those unperformed scores and send them in!
During their "off" season this summer, ACM isn't just taking a break, but rather has taken on a couple of collaborative projects. First, ACM will be joining forces with the International Society of Bassists to present Spotlight Double Bass. Music by living composers that feature the double bass, either in ensemble or solo, will be recorded by professional Chicago area bassists and presented on the ACM website from July 1 through August 15. More info can be found here.
Second, ACM is planning to work with composer Jeffrey Hoover. Jeffrey has agreed to write an original composition and have its progress documented, via the web, over an 8-week period. Each week Jeffrey provides ACM with a PDF file of the score and parts. ACM will then perform the piece up to that point. This recording along with the score will be posted on the web. When I asked Seth what his motivations were for the project he responded, "To try something that has never been done before." Also, to see the process that goes into the evolution of a composition—the editing, retooling, performer recommendations, etc. Jeffrey will also be participating in a discussion on the choices that he made when writing the piece, which will prove to be a wonderful learning experience I'm sure. In my mind, one of the coolest things about the whole project is that at the end of it all you can look back and really witness the creative process, so be sure to check it out and follow along.
***
Scott Winship is the Associate Director and Youth Jam Coordinator for Rock For Kids, a non-profit organization dedicated to helping Chicago's homeless children through Holiday relief programs and Youth Jam, a free music education program for underprivileged children. He has received degrees from Central Michigan University (music education) and Bowling Green State University (composition). Currently living in Chicago's Pilsen neighborhood, he tries to find as much time as possible to write music, attend concerts, and drink good beer. Upcoming performances of his work will be taking place in Chicago and Tucson.