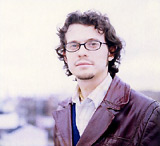 Scott Winship
Photo by Kathryn Gritt
Humans have always dabbled with the elements: tried to tame them; tried to understand and master them; and even worshiped them—all with varying degrees of success. Going hand-in-hand with that exploration from the very beginning is the arts—creating the magical with what you have, be it vegetable pigment or an open reed. As long as we are on this earth and the elements stay just out of our reach, we will always strive to capture their essence through art and science.
This is the focus of an ambitious five-year project titled "Essential Art: Essential Elements" undertaken by the Fulcrum Point New Music Project. Currently in year number three of this endeavor, Fulcrum Point has already tackled water and earth. This year's brooding exploration is air. Not satisfied with simply a light covering of a topic so hefty as one of the elements, Fulcrum Point is devoting their entire three-concert spring season to it. The first took place on January 24 in the new Harris Theatre on the edge of Chicago's newest cultural attraction, Millennium Park.
Entitled "Light as Air," the program takes us across the span of a day, from dawn to dusk, with plenty of play on light throughout, composer-style. As the program notes state, "Light as Air" focuses "on the air in the atmosphere as it functions as a prism for light, a metaphor for hope, and a medium for spiritual insight."
We start our concert "day" with the delicate beauty of Thomas Adès's Darknesse Visible. Based on a John Dowland 17th-century lute song ("In Darknesse Let Mee Dwell"), Adès deconstructs the piece and puts it back together with graceful delicacy. Performed on the piano by featured artist Andrea Swan, the piece achieves its beauty through its simplicity and lightness. It is almost as if Swan is barely touching the piano and at times her touch is so light that the piano is slow to respond. The Dowland melody exists in fragments and floats in and out as if hanging in a cloud. Simply beautiful.
The sun continues its journey over the horizon in the form of another British composer's work, At First Light by George Benjamin. Incredibly expressionistic, this work takes its muse from the painting by JMW Turner titled Sunrise. According to the composer, the piece centers around "a 'solid object' [which] can be formed as a punctuated, clearly defined musical phrase. This can be 'melted' into a flowing, nebulous continuum of sound." Personally I had a little difficulty holding on to Benjamin's "solid object" as the entire piece swirled around me in a mass of colors and changing textures, almost as if I was stuck in the dense build up of oil paint on an expressionist canvas. Where's my absinthe?
As our musical day progresses we come to Charles Ives's The Rainbow. This is a very brief setting (less than two minutes!) of a popular song although it contains no singer and no words. Rather, the "vocalist" is channeled through the English horn in this instance, which provides the melody as the orchestra weaves its way through a prism of colors. This has got to be one of the shortest Ives pieces that I've heard, especially for this voicing. I've always been fond of Ives's use of color and this piece does not disappoint as the orchestra continuously shifts hues under the English horn melody. It left me hanging on the edge of my seat hoping for more when the piece ended abruptly, almost sounding incomplete.
Then we come to a catharsis, or soul-searching time, in Chicago-based composer George Flynn's Toward the Light. Initially it began as what the composer calls "a short, essentially improvised 'prelude' that explored the piano's middle register." It evolved more recently, however, into "a precisely notated and harmonically shaped work that starts in the middle register and gradually expands to the piano's extreme registers." Ever undulating and moving forward, even in stasis, the piece leads us to "a releasing of sorts from a turbulent and swirling texture to a progressively more floating, serene freedom." The thing that I really loved about this piece, besides its constant motion, was the poignant longing that Flynn was able to pull out from turbulent banging. One really hears a tortured exploration of the piano with extended periods of tension building, something that perhaps many of us (myself included) have dabbled with in our own improvisations but chose to leave in that form. I sat listening and wishing that I could see someone set this to choreography. The added tension of bodies in motion would really be a treat to see and hear.
As the sun moves across the sky and the shadows grow longer, we come to the work of David Stock, founder and conductor of the Pittsburgh New Music Ensemble. In this work, Available Light, Stock combines many aspects of contemporary music into what Stephen Burns, artistic director and conductor of Fulcrum Point, calls "post-minimalist modernism." The work takes us on an almost schizophrenic journey through Stravinsky-esque rhythms and orchestrations in the first section with sudden shifts to Bernstein harmonizations and restless perpetual motion reminiscent of a Saturday morning cartoons (Tom & Jerry was my first thought—you can almost hear them chasing one another in circles).
Finally our musical day winds down and the haze begins to settle—Purple Haze to be exact—yes, of the Jimi Hendrix variety. Hoping to be treated to something akin to the wonderful Kronos take on this classic, I was unfortunately treated to an orchestration (by Swiss composer Daniel Schnyder) that made me feel like I was back in my middle school gym listening to the pep band (complete with drum set). This rendition was homogenized. No howling feedback, no distortion, no giant stacks of speakers on stage.
And so ends Fulcrum Point's journey into "Light as Air."
The two remaining concerts in this series are titled "Breath of Fresh Air" featuring the work of Hannibal Lokumbe (Breath of Life), Melinda Wagner (Wing and Prayer), Stephen Jaffe (Homage to the Breath), David Lang (Sweet Air), Jerome Kitzke (Breath and Bone), and Lester Bowie (When the Spirit Returns), which takes place on March 14, and "Winds of Change" featuring the works of Shulamit Ran (East Wind), Paul Moravec (Tempest Fantasy), Osvaldo Golijov (How Slow the Wind), and Fareed Haque (a world premiere work), which takes place on May 30.
Founded in 1998 by Stephen Burns at the invitation of Performing Arts Chicago, the Fulcrum Point's mission is to present contemporary music performances "that explore the marriage of classical music and popular culture." On a quest to redefine the concert experience, the group focuses on "modern compositions inspired by folk, rock, jazz, blues, Latin, and world music, commissioned works, and contemporary arrangements of traditional pieces by composers from around the world." Or in the words of Stephen Burns, "This is music for today's diverse, multicultural world. Just like science and industry, the arts also share and are influenced by ideas from all over."
I am personally looking forward to being treated to further explorations of an element as elusive as the sounds that we put into it.
***
Scott Winship is the Associate Director and Youth Jam Coordinator for Rock For Kids, a non-profit organization dedicated to helping Chicago's homeless children through Holiday relief programs and Youth Jam, a free music education program for underprivileged children. He has received degrees from Central Michigan University (music education) and Bowling Green State University (composition). Currently living in Chicago's Pilsen neighborhood, he tries to find as much time as possible to write music, attend concerts, and drink good beer. Upcoming performances of his work will be taking place in Chicago and Tucson.