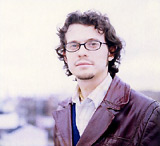 Scott Winship
Photo by Kathryn Gritt
With students heading back to the classroom, it becomes more and more clear that summer has come to an end. And to be honest (and I never thought I would utter these words), I'm a little grateful. It has been one hell of a hot summer here in Chicago and with cooling temperatures comes the rebirth of the classical concert season.
It seems that most cities of any size tend to offer up a summer concert series of one thing or another—the local community band, a pick-up pops orchestra, etc.—to play at the Fourth of July picnic or summer evening events. Chicago is no different in this respect, although I would have to argue that Chicago offers a rare treat in the land of summer orchestra performances, beyond Sousa and John Williams to that of new American music.
For those of you not in the know, I am referring to the Grant Park Orchestra and the Grant Park Music Festival. Operating for 70 years, the GPMF offers "the nation's only remaining free, municipally-supported, outdoor classical music series." Initially performing in a makeshift band shell in Grant Park, one of Chicago's great parks right on the lake front, the GPMF recently moved across the street to take up residence in the state-of-the-art (and visually stunning) Jay Pritzker Pavilion, deep in the heart of Mayor Daley's biggest pet project, Millennium Park. Calling the Pritzker Pavilion state-of-the-art is a total understatement. You should see this thing. Designed by the renowned architect Frank Gehry, the Pavilion features an ultra high-end sound system created by the Talaske Group, Inc. which boasts digitally processed "virtual architecture" and an open-air acoustical canopy. Designed to provide a "concert hall" quality sound to an outdoor concert, the pavilion is constructed with a trellis of steel and sound speakers that crisscross the outdoor lawn seating, so whether you're in the first row or on a blanket in the back of the lawn with a picnic basket you get the best quality sound. The pavilion holds 4,000 fixed seats and can accomodate an additional 7,000 people on the lawn under the trellis.
The GPMF's commitment to new music is stunning for any orchestra series, let alone a "free municipally-support classical music series" operating during the summer. In this season alone 8 of 21 concerts prominently feature new music from home and abroad. Concerts titles such as Baltic Voices (new choral music by Pärt, Sisask, Schnittke, Nørgard, Kreek), Modern Masters (Corigliano, Harbison, Martinu), American Romantics (Hailstork, Barber, Hanson, Gershwin), and Bernstein to Adams (Corigliano, Bernstein, Adams) including the odd sprinkling of Copland and others throughout, show the obvious commitment to new music.
My girlfriend and I decided one lovely night to spend the evening on a blanket on the lawn underneath this trellis of speakers and steel to take in the "Bernstein to Adams" concert. The first thing that we noticed, and were quite taken aback by it, was that when we arrived the majority of the permanent seats were filled near the stage. And it appeared that the entire lawn was filled with a huge mix of children, blankets, couples, lawn chairs, families, coolers, and the elderly all settled in to listen to new American music. I was overjoyed to see thousands of people on this lovely evening sitting to enjoy the concert, including all of the people strolling by as they were enjoying the rest of Millennium Park. Could anything be more wonderful? It was so crowded that we were forced to sit to the side of the official "lawn" seating section with several other listeners. But not to worry, thanks to the sound system, we were able to hear perfectly well even if we couldn't really see all that much.
The concert consisted of John Corigliano's Fern Hill, Bernstein's Arias and Barcaroles and the piece that I really came to hear, John Adams's On the Transmigration of Souls. Corigliano has had a long-standing tradition with the GPMF, receiving several performances each summer including a performance of his Midsummer Fanfare earlier this season. I was concerned that, in an outdoor environment, Adams's subtle and poignant Transmigration might get lost. And it did to some degree for us out in left field, but it still held a powerful voice. It truly was a great thing to see families of all shapes and sizes enjoying this music in such a beautiful setting. I am really looking forward to spending much more of next summer under the trellis in the open air listening to quality new American music…I'll just remember to get there early.
***
Scott Winship is the Associate Director and Youth Jam Coordinator for Rock For Kids, a non-profit organization dedicated to helping Chicago's homeless children through Holiday relief programs and Youth Jam, a free music education program for underprivileged children. He has received degrees from Central Michigan University (music education) and Bowling Green State University (composition). Currently living in Chicago's Pilsen neighborhood, he tries to find as much time as possible to write music, attend concerts, and drink good beer. Upcoming performances of his work will be taking place in Chicago and Tucson.