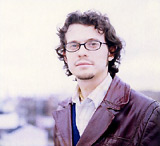 Scott Winship
Photo by Kathryn Gritt
All too often Chicago gets labeled as simply a blues city, and there is much of that, but if you start poking around inside the deep and richly varied music scene, you'll find new music ensembles and performing venues for new American music are popping up all the time. Performance opportunities great and small abound in the city, from major institutions such as the Chicago Symphony Orchestra to the experimental music on the fringes happening at places such as 6ODUM, the Empty Bottle or, for you experimental jazz folks, 3030.
First I'd like to tackle one of the biggies—don't worry, out of the way places coming soon—the Chicago Symphony Orchestra's MusicNOW series. With a major orchestra that employs Pierre Boulez as its principal guest conductor and Augusta Read Thomas as its Composer-in-Residence, one would expect some quality new music…they don't disappoint. Usually given as a series of four concerts throughout the season, MusicNOW is billed as "the Chicago Symphony Orchestra's most innovative series, devoted entirely to NEW MUSIC. The series brings together LIVING COMPOSERS from around the world. MusicNOW includes DYNAMIC discussions with the composers, led by CSO Mead Composer-In-Residence Augusta Read Thomas. The INTERACTION continues with the composers at each post-concert reception." I personally enjoy the all caps tag words supplied by the CSO's website, but they forgot to mention the FREE WINE supplied at the reception! Currently in the middle of the 2004-05 series, the third concert was held on April 18th, 2005 and only featured one American work, that of elder serial statesman Milton Babbitt. His jazzy Whirled Series—right in time for opening day of one of the few sports that really matters to most Chicagoans—was featured alongside works by George Benjamin, Unsuk Chin, and Wolfgang Rihm. The programming of Whirled Series is notable not only for the rarity of its performance in these parts, but also due to the wonderful performers enlisted to bring it to us: pianist Marilyn Nonken and fellow member of Ensemble 21 Taimur Sullivan on saxophone. Perhaps one of the consequences/benefits of Ensemble 21's executive director Jason Eckardt as a recent addition to the faculty of Northwestern University will be the chance to enjoy more performances by the ensemble's members here in the Chicago area.
The last installment of the MusicNOW series for this year will be held on June 7th at 8 pm with music supplied by Americans Steven Mackey (Indigenous Instruments), Robert Lombardo (Compressions II), and Joshua Fineberg (Recueil de pierre et de sable), as well as Cyprus-born Evis Sammoutis (Prelude and Allegro). For those who have not attended a MusicNOW concert, be forewarned that the CSO attempts to create an intimate listening experience in the vacuous expanse of Orchestra Hall by seating the audience in the terrace, a raised seating area at the back of the stage normally employed for choir performers. The ensemble in turn performs facing the terrace, with their backs to the traditional audience.
***
Scott Winship is the Associate Director and Youth Jam Coordinator for Rock For Kids, a non-profit organization dedicated to helping Chicago's homeless children through Holiday relief programs and Youth Jam, a free music education program for underprivileged children. He has received degrees from Central Michigan University (music education) and Bowling Green State University (composition). Currently living in Chicago's Pilsen neighborhood, he tries to find as much time as possible to write music, attend concerts, and drink good beer. Upcoming performances of his work will be taking place in Chicago and Tucson.