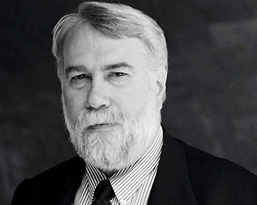 Christopher Rouse
Photo by Jeffrey Herman
Christopher Rouse has been named the 2009 Musical America Composer of the Year. The accolade, which this year will be formally acknowledged in a ceremony at Lincoln Center on December 15, 2008, has been annually bestowed by Musical America, which over the past century has published a weekly music newspaper, a daily-updated website, and an annual worldwide directory of musicians and people working in the classical music industry.
In addition to honoring Rouse, Musical America has named new music champion Marin Alsop Conductor of the Year. Mezzo-soprano Stephanie Blythe—whose new music curriculum vitae includes premiere performances of works by Alan Louis Smith and Paul Siskind—has been named Vocalist of the Year. And the Pacifica Quartet—which has nationally toured and recorded the complete string quartets of Elliott Carter—has been named Ensemble of the Year. Musical America's highest honor, Musician of the Year, which has been awarded since 1960, has been awarded to cellist Yo-Yo Ma who has commissioned, premiered, and recorded dozens of new solo, chamber, and orchestral works and whose Silk Road Project has broken down barriers between a wide range of international music genres. The first honoree of Musical America's Musician of the Year was composer-pianist-conductor-educator Leonard Bernstein, who received the title again in 1989 shortly before his death. A complete list of Musical America's Composers and Musicians of the Year appears below.
According to Stephanie Challener, publisher of Musical America, "Our awardees represent all that is fresh, dynamic, insightful, and adventurous in the arts today in addition to being an enormously talented and generous group of musicians." The awards coincide with the publication of the 2009 Musical America International Directory of the Performing Arts, the world's acknowledged indispensable resource for the performing arts, containing detailed information for over 14,000 international arts organizations, artists and artist managers. The Directory also pays editorial homage to each of the 2009 awardees, with profiles by Alan Rich (Yo-Yo Ma), Paul Horsley (Christopher Rouse), Tim Smith (Marin Alsop), Martin Bernheimer (Stephanie Blythe), and Heidi Waleson (Pacifica Quartet).
Composers of the Year (since 1992)
1992 John Corigliano
1993 Elliott Carter
1994 Morton Gould
1995 Gunther Schuller
1996 Milton Babbitt
1997 John Adams
1998 Ned Rorem
1999 Ellen Taafe Zwillich
2000 Stephen Sondheim
2001 Steve Reich
2002 Lou Harrison
2003 Tan Dun
2004 George Crumb 2005 Arvo Pärt 2006 Osvaldo Golijov
2007 William Bolcom
2008 Kaija Saariaho
2009 Christopher Rouse
Musicians of the Year (since 1992)
1960 Leonard Bernstein
1961 Leontyne Price
1962 Igor Stravinsky
1963 Erich Leinsdorf
1964 Benjamin Britten
1965 Vladimir Horowitz
1966 Yehudi Menuhin
1967 Leopold Stokowski
1968-69 Birgit Nilsson
1970 Beverly Sills
1971 Michael Tilson Thomas
1972 Pierre Boulez
1973 George Balanchine
1974 Sarah Caldwell
1975 Eugene Ormandy
1976 Arthur Rubinstein
1977 Plácido Domingo
1978 Alicia de Larrocha
1979 Rudolf Serkin
1980 Zubin Mehta
1981 Itzhak Perlman
1982 Jessye Norman
1983 Nathan Milstein
1984 James Levine
1985 Philip Glass
1986 Isaac Stern
1987 Mstislav Rostropovich
1988 Sir Georg Solti
1989 Leonard Bernstein
1990 Herbert von Karajan
1991 Gian Carlo Menotti
1992 Robert Shaw
1993 Kurt Masur
1994 Christa Ludwig
1995 Marilyn Horne
1996 The Juilliard String Quartet
1997 James Galway
1998 Seiji Ozawa
1999 André Previn
2000 Carnegie Hall
2001 Martha Argerich
2002 Sir Simon Rattle
2003 Kronos Quartet
2004 Wynton Marsalis
2005 Karita Mattila
2006 Esa-Pekka Salonen
2007 Bernard Haitink
2008 Anna Netrebko
2009 Yo-Yo Ma
—FJO