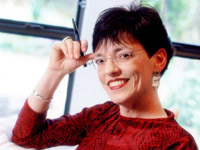 Cindy McTee
Photo by Angilee Wilkerson, UNT
University of North Texas Professor Cindy McTee will use her Guggenheim Fellowship money to work on a "symphonic-length piece." The piece will have four movements, the third of which will be a waltz. The waltz is not "old sounding," Dr. McTee stressed, but it does "look back" to a time when there were dance movements in symphonies. It also reflects her recently developed interest in ballroom dancing.
Dr. McTee has been on sabbatical since January 2001, and the Guggenheim Fellowship will allow her to continue her leave until December 2001. "I need long, uninterrupted chunks of time to write," McTee confessed. "I like to unplug the phones and 'go into a cave.'" Under normal circumstances she gets most of her work done in the summer, when she isn't teaching. Dr. McTee calls the two-semester sabbatical a "luxury."
Recently, she has been traveling to hear performances of her works. On February 9, 2001, the Dallas Symphony played her concert overture Timepiece at Carnegie Hall. Timepiece was commissioned for the Symphony's centennial season (1999-2000) and was given its world premiere in Dallas in February 2000. She also heard Dallas Symphony conductor Andrew Litton lead the Seattle Symphony in the same piece in March.
"Winning the Guggenheim Fellowship was such a surprise," Dr. McTee concluded. "I've applied many, many times – it's just that this time the letter was a little thicker."