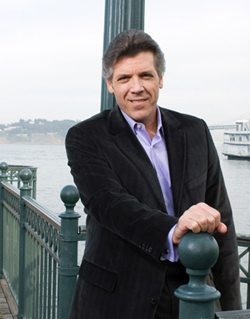 Thomas Hampson
During the month of July, the digital music subscription service Classical Archives is presenting an "American Music Celebration" which coincides with American baritone Thomas Hampson's 2009 tour, 250 Years of American Song. Classical Archives' presentation includes a two-part series of One-Click ConcertsTM comprising music from the Revolutionary era through the early 20th century and compositions from roughly the past 75 years, respectively.
"We obviously have a musicological bent here," says Classical Archives' Artistic Director Dr. Nolan Gasser. "And my notion was—Let's create a little sort of program, a little concert, a sampling of American classical music, from Billings to last Tuesday—highlighting not necessarily just the most seminal works, but giving a little taste for those familiar and those unfamiliar with various composers who have left their mark on what is American music."
These online concert programs—which feature composers such as Edward MacDowell, Charles Ives, Aaron Copland, George Gershwin, John Cage, Steve Reich, and Jennifer Higdon—are supplemented with historical commentary by Gasser. The celebration, found at Classical Archives, also includes an interview with Hampson, whose tour begins on July 9 in Winona, MN.
Concertgoers in Winona will have access to a recording of the recital through InstantEncore. The concert, which is being recorded by Minnesota Public Radio, will subsequently be made available to various American Public Media outlets for broadcast and Internet streaming, as well as to the European Broadcasting Union. Hampson will contribute commentary on the compositions to supplement the concert.
InstantEncore is also powering a new "Thomas Hampson" iPhone application, which will be available at the Apple iPhone store for free download. The application will include recitals, program notes, radio broadcasts, podcasts, tour dates, and ticket information.
The complete Thomas Hampson tour itinerary is as follows:

July 9, 2009: Winona, MN
July 12, 2009: Williams Bay, WI
July 15, 2009: Chicago, IL on WFMT-FM, 4-5:30 p.m. (streamed live)
July 16, 2009: Ravinia Festival, Highland Park, IL
July 22, 2009: Tanglewood, Lenox, MA
August 5, 2009: Grand Teton Music Festival, Wilson, WY
September 30, 2009: San Francisco, CA
October 6, 2009: Portland, OR
October 9, 2009: Santa Barbara, CA
October 11, 2009: Boulder, CO
November 17, 2009: Princeton, NJ
February 19, 2010: Atlanta, GA