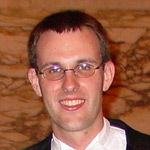 Zachary M. Lewis
Photo by Nowell York
The new year started off brilliantly for James Gaffigan, assistant conductor of the Cleveland Orchestra. With Music Director Franz Welser-Möst in Europe nursing an ear infection, Gaffigan got to preside over one of the highest profile concerts of the season, one that featured Beethoven's Fifth Symphony and a U.S. premiere.
The latter was a captivating new piano concerto by Marc-Andre Dalbavie, the French-American who held the Cleveland Orchestra's first composer residency a few years back. His orchestral and chamber music is about as well known here as any living composer's can be.
Even so, Cleveland can stake only partial claim to the new work. Dalbavie's commission involved both the BBC Symphony Orchestra, which gave the world premiere last August under Jukka-Pekka Saraste, and the Chicago Symphony Orchestra, which will perform the work next month. Norwegian pianist Leif Ove Andsnes has been its gifted champion all along and is giving life to a work that deserves to be heard beyond these three occasions.
Dalbavie's output for piano is relatively slim to date. Not only does this 25-minute concerto make a significant contribution to the modern concerto repertoire, it also represents his first major work for the instrument. It also leads off a cycle slated to include a piano solo, a trio with horn, and a quintet with winds.
Because Gaffigan stepped in relatively last minute, there was a change in the program: Debussy's Printemps replaced Berg's Lulu Suite. It proved to be an inspired decision. Although the Berg would have been nice, the concerto and the Debussy proved to have much in common, especially in terms of orchestration.
In designing the concerto's structure, Dalbavie says William Faulkner's The Sound and the Fury was a major influence, in particular the way the author tells the same story in different ways. In a pre-concert talk, Dalbavie also referred to clouds and our tendency to see shapes in them that aren't really there, saying he wished to create a musical equivalent.
One shape, at least, is definitely there: the downward arc. The pattern reappears numerous times in each of the three interconnected movements. It comes in various guises, too, from dense, crashing chords to smooth, descending scales and arpeggios. The force of musical gravity is so strong in the third movement, it sounds like the orchestra is tumbling off a cliff. At other times, the arc pattern flattens out and the orchestra drives the piano onward with a chugging rhythm reminiscent of Stravinsky's Rite of Spring. Indeed, the work comes to a halt on a violent thump.
Overall, though, the concerto is actually fairly temperate, and the calmer, quieter material comprises this work's best side. Twice in the first movement the pianist pauses for a cool, questioning rumination, while the second movement starts off with a long solo section occupied mostly by airy single notes. These give way to a giant, colorfully orchestrated surge mimicking some of what the piano had done earlier and would do again.
Chicago is in for a treat. Gaffigan, meanwhile, goes down in history as having introduced the U.S. to a great new concerto for the 21st century.
***
Zachary Lewis is a freelance arts journalist in Cleveland, Ohio. He covers music primarily but also dance, art, and theater. He writes regularly for the Plain Dealer, Cleveland Scene, Angle, Dance Magazine, and Time Out Chicago. Lewis studied piano performance at the Cleveland Institute of Music and holds degrees in English and Journalism from Ohio University and Case Western Reserve University, where he will conduct a Presidential Fellowship in arts criticism in the fall of 2006.