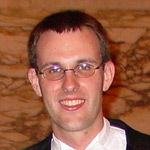 Zachary M. Lewis
Photo by Nowell York
Contemporary music by the boatload, performances sizzling with vitality, and a fervent commitment to education: You might say the Cleveland-based Cavani Quartet is on track to be the next Kronos Quartet. Further evidence that the Cavanis are super cool arrived late last month when the all-female group presented a concert of new and recent music by American women, including a piece by Merry Peckham, the group's cellist. Annie Fullard and Mari Sato are the group's violinists, and Kirsten Doctor is its violist.
The concert, titled "Confluence," took place at the Cleveland Institute of Music, where the Cavanis have been artists-in-residence since 1988. In addition to music by Joan Tower, Margaret Brouwer, and Kathleen Ginther, it featured a dash of visual art and even a live poetry reading.
Breakfast at the Ibis, for string quartet and reader, was the evening's briefest and most distinctive entry. Peckham wrote the piece in 1997, setting to music a poem by Mwatabu Okantah, a Pan-African studies professor at nearby Kent State University. It was, Peckham said, her "first original thought" and reflected the disparate musical influences of Jimi Hendrix and late Beethoven.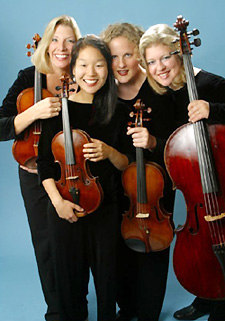 Cavani Quartet
Photo by Christian Steiner
Okantah was present that night to read his own poem, a short, fragmented tale contrasting a chance romantic encounter at a luxurious European hotel with poverty and hunger, the rule outside it. The poet held a small drum. After each stanza he would strike it repeatedly like a bongo, but using a mallet. The musicians, too, employed unusual tools—miniature bows for their full-size string instruments. But these didn't stay out long. No matter. The music, quiet and thin, was of secondary importance, anyway.
Joan Tower, writing in 1994, must have taken some of her material for Night Fields from Shostakovich's Eighth String Quartet. The famous D-S-C-H theme is omnipresent in the work, if in splintered, distended versions. Unlike Shostakovich's quartet, though, Night Fields heats to a boil extremely rapidly and includes a longish section in a major key.
Kathleen Ginther is an active composer and teacher at Southern Illinois University. Rather than perform one of her recent works, however, the Cavanis looked further back into her oeuvre to perform Blue and Green Music, a string quartet from 1983. Doing so allowed them to incorporate an element of visual art into the concert. Because Ginther thought about a Georgia O'Keefe painting when she composed the second movement of Blue and Green Music, the Cavanis felt a visual aid was in order and displayed a slide of the abstract painting on a screen next to them.
It was an inspired move. While the first movement, "Confluence," was fragmented and percussive in nature, with squeaky individual parts swirling around each other, it was helpful to view the curved, gently rippling lines in the painting while listening to the second movement. Long melodies for violin and viola often rose to the forefront but the background was often just as rich, with groupings of short, high-pitched slurs, like baby ghosts just learning how to haunt.
By way of truly brand-new music, the Cavanis unveiled a Quintet for Clarinet and String Quartet by their colleague Margaret Brouwer, head of the composition department at CIM. Daniel Silver, the University of Colorado professor who commissioned the work, was the guest clarinetist.
The highlight of the work was easily its second movement, an adagio called "My white tears broken in the seas." The title comes from a poem by David Adams called "An Angel's Song" and describes a angel's lament for the woes of humanity. The image of a crying angel is compelling in its own right, but Brouwer's musical portrayal of it is even more entrancing. A long, legato passage in the clarinet hangs above slow, questioning phrases in the strings. The effect is an otherworldly calm, like something ancient being unearthed, a long-forgotten score by Hildegard of Bingen, perhaps. The impression transforms at the end of the piece as the score begins to suggest the thick, closely harmonized music of a modern-day mystic, Arvo Pärt. Singled out from the rest of the Quintet, "My white tears" seems destined for a long life, longer even than the hopefully never-ending career of the Cavani Quartet.
***
Zachary Lewis is a freelance arts journalist in Cleveland, Ohio. He covers music primarily but also dance, art, and theater. He writes regularly for the Plain Dealer, Cleveland Scene, Angle, Dance Magazine, and Time Out Chicago. Lewis studied piano performance at the Cleveland Institute of Music and holds degrees in English and Journalism from Ohio University and Case Western Reserve University, where he will conduct a Presidential Fellowship in arts criticism in the fall of 2006.