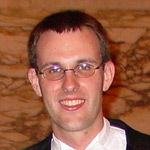 Zachary M. Lewis
Photo by Nowell York
The Cleveland Orchestra Youth Orchestra's new music pipeline is short and steady. It runs from Severance Hall a few blocks down the street to Margaret Brouwer, the resident composer at the Cleveland Institute of Music.
The COYO commissions and performs a new score from one of its students every year. Last year, it was Dan Visconti. This year, they tapped Casey Hale, a second-year graduate composition student, and he responded with a 10-minute piece for full orchestra called Pax in Nomine Domini.
Hale received the commission from the COYO last May and had to be finished by August—a true compositional challenge. "I knew how I'd be spending my summer," he recalls. "This is by far the largest orchestra I've ever had a chance to work with. Writing for full orchestra is always kind of a monster no matter what you do. But it was an incredible honor."
Music director (and outgoing assistant conductor of the Cleveland Orchestra) James Gaffigan explains the choice. "Casey's style is very appropriate for us, not too crazy difficult but not simply sight-readable, either. He knows what he's doing. He's a real talented guy who knows exactly what he wants."
Pax in Nomine Domini is slated for its world premiere this Sunday afternoon during the youth orchestra's 20th anniversary season-opening concert. It's on a program with Prokofiev, Bernstein, and Joseph Jongen.
Occasions on which new music appears often draw at least some measure of perfunctory attention but this particular piece might actually cause a minor stir. That's because Hale infused the work with an ironic anti-war spirit some are apt to find relevant to modern times.
Inspired by a recent course in medieval music, Hale derived the primary motif for Pax from a song by the 12th-century troubadour Marcabru, but not just any song. Ostensibly a rallying cry for piece, Abru's text is in fact an exhortation to engage in righteous battle in the Crusades.
"In essence, there's an ironic relationship between the title and the actual text," Hale says. "My intention was to dramatize that juxtaposition and to explore how that message gets disseminated and how it turns into propaganda. The way I've dressed it up is complex but I think the idea does come across to the orchestra on a fairly basic level. I think the idea resonates with at least some of them."
Pax begins relatively calmly—"from a point of restraint," in Hale's words—and builds through repetition and variation into a huge, climactic statement. Hale describes his musical language as neither tonal nor atonal but modal with a 21st-century flair, incorporating serial techniques but not defined by them.
"He varies the theme in so many ways," Gaffigan says, "to the point where it's almost unrecognizable because he's broken it down to the rhythmic level exclusively. It's supposed to sound crass and bizarre in spots, too, and then there's this romantic ending that just melts away. It's been hard for student players who've been learning how to make beautiful sounds their whole lives to go back to doing what they did when they first picked up their instruments."
Hale hesitates to affix any rigid agenda to Pax because he doesn't want listeners to focus their attention too closely on extra-musical matters. He himself claims to have set aside all such issues during composition. Still, he says it should be clear after the performance that he comes down on the side of actual peace even if Abru doesn't.
Speaking from the perspective of the orchestra, Gaffigan says the 105 young musicians who comprise it have been responding favorably to hearing directly from Hale about what was going through his mind as he wrote the music now sitting on their stands as the final rehearsals are underway.
"They love being let in on the secret," he says. "They just suck it up. Plus, they love working with a living composer. You don't know how much they'd love to call up Mahler and ask him a few questions. I think the most important aspect here is not our commission of a new work or a composer getting a premiere, but young musicians getting to work with a living composer."
The Cleveland Orchestra Youth Orchestra's 20th anniversary season-opening concert takes place 3 p.m. November 13th at Severance Hall.
***
Zachary Lewis is a freelance arts journalist in Cleveland, Ohio. He covers music primarily but also dance, art, and theater. He writes regularly for the Plain Dealer, Cleveland Scene, Angle, Dance Magazine, and Time Out Chicago. Lewis studied piano performance at the Cleveland Institute of Music and holds degrees in English and Journalism from Ohio University and Case Western Reserve University, where he will conduct a Presidential Fellowship in arts criticism in the fall of 2006.