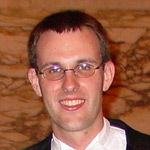 Zachary M. Lewis
Photo by Nowell York
As spring stretched out towards summer here in Northeast Ohio, the Cleveland Orchestra presented the world premiere of a new score that mirrored, to an extent, that same natural event.
Susan Botti's Translucence, first performed in late May by the orchestra under music director Franz Welser-Möst, did exactly what its title suggests it should. It hinted at bright, thin sonorities and melodies without, like the local thermometer, settling on anything firm.
Cleveland weather was probably the last thing on Botti's mind as she wrote Translucence, but perhaps it wasn't. Botti, currently the Daniel R. Lewis Young Composer Fellow with the Cleveland Orchestra, grew up here before taking off for schooling in Boston and New York. Furthermore, Translucence was the composer's second commission from the orchestra, a follow-up to last season's Impetuosity.
In any case, two things definitely were on Botti's mind as she wrote the new piece: a poem by Amy Swenson called "The Exchange" and Botti's own setting of that text for tenor James Gilchrist and harpist Alison Nicholls, premiered in 2003.
Here is the poem:
Now, my body flat, the ground
breathes. I'll be the grass
Populous and mixed is mind
Earth, take thought. My mind, be moss
Field, go walking. I, a disk
will look down with seeming eye
I will be time, and study to be evening
You, world, be thought
I will stand, a tree, here
Never to know another spot
Wind, be motion. Birds, be passion
Water, invite me to your bed.
According to Botti's program commentary, the 15 continuous minutes of Translucence, scored for normal orchestra with a few extra woodwinds, comprise two sections, an exploration of the poem's images followed by a larger recasting of her original song. Neither such divisions nor any visual allusions were readily perceptible after only one hearing, but there were plenty other features of Translucence to latch onto.
Botti, currently an assistant professor at the University of Michigan, is a singer as well as a composer, and her vocal leanings were apparent. Brief, quivering fragments of melodies appeared in the violins, answered elsewhere by sighing phrases for viola, oboe, or horn, or interrupted by punctuating roulades from the upper brass.
And though there were two moments in which the entire orchestra united at pointed dramatic peaks, these occasions were relatively rare. Textures were typically no thicker than a top line and its accompaniment, with the percussion section, notably the marimba, often serving actively in the proceedings.
The long and exposed melodies for alto flute, though, may have been the clearest indication that Translucence has roots in vocal music. Perhaps Botti felt this rather unusual instrument is the closest match to her own voice type, thus establishing a more personal dimension to the entire piece. After all, she did dedicate the work to her mother, whose name, incidentally, is Claire, i.e. "light."
Welser-Möst and the orchestra nailed the piece, little surprise since the two are often at their best together when interpreting contemporary scores, specifically music in which a shimmering and hermetic atmosphere is paramount.
However, the concert also included a dull account of Bartók's Concerto for Orchestra and Leif Ove Andsnes performing Rachmaninoff's Piano Concerto No. 1, which would have been marvelous had he not spent half the time competing with a steady electronic beeping somewhere in Severance Hall. Translucence, with its intentionally ethereal impact, turned out to be the most hard-hitting entry on the program.
***
Zachary Lewis is a freelance arts journalist in Cleveland, Ohio. He covers music primarily but also dance, art, and theater. He writes regularly for the Plain Dealer, Cleveland Scene, Angle, Dance Magazine, and Time Out Chicago. Lewis studied piano performance at the Cleveland Institute of Music and holds degrees in English and Journalism from Ohio University and Case Western Reserve University, where he will conduct a Presidential Fellowship in arts criticism in the fall of 2006.