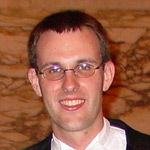 Zachary M. Lewis
Photo by Nowell York
It was a Thursday evening in mid-March. Members of the Cleveland Orchestra were gathering onstage at Severance Hall while a small group of ticket holders settled in a chamber hall downstairs to catch a pre-concert performance by the Oberlin Contemporary Music Ensemble.
That's where it would happen. There, in the elegant Reinberger Chamber Hall, a fed-up listener would boldly strike back against new music.
The program at this mini-concert was Julian Anderson's Poetry Nearing Silence, a brief septet from 1997 based on poetry by Tom Phillips. The music was serving the place of an introductory lecture or interview with Anderson (a British composer now teaching at Harvard University), whose Diptych the orchestra and director Franz Welser-Möst were to present later that evening.
Following the performance, OCME director Timothy Weiss offered to answer questions. An older gentleman, clearly disgusted by what he'd heard, shot his hand in the air and was given the floor. "Can you explain to me how that's music and not just the group warming up?" he asked.
Momentarily flustered, Weiss smiled politely, gathered his thoughts, and proceeded to deliver a remarkably polished response that defused the situation. After first noting the music's "almost embarrassing attachment to the 19th century," he justified the performance with the principle many NMBx readers live by: "If you don't continue to listen to new music, then music isn't even an art form."
The questioner nodded his head in seeming understanding. Nevertheless, an air of awkward hostility hung over the room through a round of tamer questions and another Oberlin student's performance of a Schubert lied.
Reflecting on the encounter a few days later, Weiss said he wasn't prepared for such a pointed question, but he wasn't surprised by it, either. In fact, he took it as a sign of the times.
"The Thursday night audience is the conservative audience, and this man was just trying to get a reaction out of me. He was trying to rile me up…These are conservative times, and some of that conservative attitude in politics and religion is filtering down into the arts."
"Of course," Weiss mused, "I could have been like Harrison Birtwistle when he was here last year. He just said 'That's a stupid question' and moved on. But he's 70 and has an international reputation. I'm only 38 and I'm not ready to be that abrasive."
***
Zachary Lewis is a freelance arts journalist in Cleveland, Ohio. He covers music primarily but also dance, art, and theater. He writes regularly for the Plain Dealer, Cleveland Scene, Angle, Dance Magazine, and Time Out Chicago. Lewis studied piano performance at the Cleveland Institute of Music and holds degrees in English and Journalism from Ohio University and Case Western Reserve University, where he will conduct a Presidential Fellowship in arts criticism in the fall of 2006.