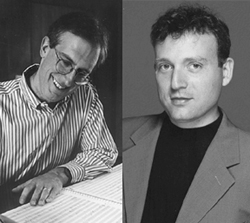 Cohen and Bermel awarded the Westchester Prize for New Works
Photos by Susan Woog Wagner and Tom LeGoff
Three artists who have partnered with Westchester, New York, cultural organizations will share the Westchester Prize for New Works, a cash award intended to support the creation and premiere performance of new works of art in Westchester County.
"The purpose of this award is to celebrate Westchester's role as an incubator of bold new artistic work," County Executive Andrew J. Spano noted when announcing the awards. "Our three awardees will help further distinguish our county as a vital and active nationwide leader in the arts."
This year's award winners include: choral composer Gerald Cohen in collaboration with Canticorum Virtuosi/The New York Virtuoso Singers; choreographer Robert Hill who has partnered with Project Ballet Theatre; and composer Derek Bermel in collaboration with the Westchester Philharmonic. Each organization will receive a check for $16,666.66 to support the development and presentation of the proposed work.
Composer, clarinetist, and New Rochelle-native Derek Bermel will compose a full-length orchestral work for the Westchester Philharmonic for premiere in the fall of 2002 (in honor of the Philharmonic's 20th anniversary). Though Bermel has not yet completed the work, he says it will likely be influenced by the traditional Bulgarian music he has been studying. The winner of a Guggenheim Award and a Fulbright Grant, he is currently living in Italy as a recipient of the Rome Prize from the American Academy.
Gerald Cohen, a cantor and resident of Yonkers, will compose a new choral piece for Canticorum Virtuosi, Inc./The New York Virtuosi Singers, a professional choir based in South Salem, New York. His work, he says, will focus on the role of elders and how their wisdom enriches society. It will premiere in March of 2003 at Temple Shaarei Tikvah in Scarsdale, and be given subsequent performances at several other community locations.
(Both Bermel and Cohen spoke with Molly Sheridan about their commissions in profiles accompanying this story.)
Choreographer Robert Hill, in collaboration with Project Ballet Theatre and the Purchase Conservatory of Dance, will create a work for a select group of advanced dance students. Hill's work will touch on the subjects of terror and doubt—a theme selected before September 11. The premiere performance will be on April 26, 2002 at the Performing Arts Center's Pepsico Theatre.
This year's Westchester Prize selection committee members were sculptor Agnes Denes, muralist Richard Haas, theatre director Israel Hicks, composer Tod Machover, and jazz artist Houston Person.
The $50,000 Westchester Prize was established by The Philip Morris Companies Inc. as a legacy of the Westchester County Millennium Commission and intended to encourage "the creation and premiere in Westchester County of new work by emerging artists in collaboration with county-based cultural organizations." It is administered by the Westchester Arts Council.
"It has long been a central mission of the Westchester Arts Council to support the creation of new works of art in our community," Westchester Arts Council Executive Director Janet T. Langsam explains. "The Westchester Prize is an extraordinary new opportunity for artists and cultural organizations here, and it will go a long way to supporting artistic innovation, creativity, and diversity in our own backyard."
To be eligible, artists were required to partner with a not-for-profit cultural organization based in Westchester County. Preference was given to artists who have lived, worked, been educated, or are currently residing in the county.
Prize applicants were required to include plans for an educational and community outreach program. In advance of the performance of Cohen's choral work, both he and Harold Rosenbaum, artistic director of Canticorum Virtuosi, Inc., will lead a presentation to the congregation of Shaarei Tikvah to discuss the composition and the collaboration. Cohen and Rosenbaum will also lead chorus workshops with Yonkers students. Hill and Project Ballet Theatre will present his new dance work for Westchester schoolchildren at the Performing Arts Center, and will, together with the Purchase Conservatory of Dance, conduct lectures/demonstrations on the subject of ballet in several schools. The Westchester Philharmonic's planned outreach program includes presentations on the commissioning process for continuing education classes throughout the county. At-risk students in the Ossining Children's Center after-school program and the Mount Vernon YMCA will participate in a yearlong education program that will culminate in attendance at the open rehearsal of the commissioned work.
"The Westchester Prize for New Works leaves a lasting legacy for future generations," noted Barbara Dunkel, co-chair of the Westchester County Millennial Commission. "A legacy that will truly honor the past and envision the future."