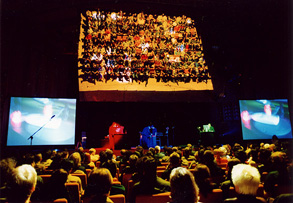 A mirror reflects the "performers", who are also the audience in Levin's Dialtones
Photo courtesy
When the cell phones started ringing during a performance at an electronic arts festival in Linz, Austria, the conductor didn't storm off the stage in a rage. He was the one making the calls.
"Dialtones: A Telesymphony," was given it's premiere at TAKEOVER: the 2001 Ars Electronica Festival on September 2. MIT grad Golan Levin designed the composition as part of a three-month residency at the Ars Electronica Center. The 30-minute work is based solely on the choreographed ringing of 200 cell phones in the audience.
Though there's an obvious temptation to write off the project as a mere stunt, Levin insists the performance was never intended to be just an amusement or gimmick. "It was intended earnestly but I can't deny that it has a whimsical aspect. That's a big component of it. At the same time, if this piece was only a whimsical event or only a stunt, I don't think that would be very interesting at all. Our objective the whole time was to make a piece of music that would actually surpass the stunt like qualities of the medium that we had created for it. So it had to stand on its own as a piece of music. If it was just whimsical, I think that would be a failure."
Over lunch in a midtown Manhattan diner just a week after the premiere, Levin confesses, "I'm still having anxiety dreams about it because it was a really stressful project, but everything went pretty well."
The project took nearly a year to complete, from conception to performance, but Levin says he spent most of the first 10 months of that time in front of a computer not composing or developing software, but writing emails to obtain the support the project needed.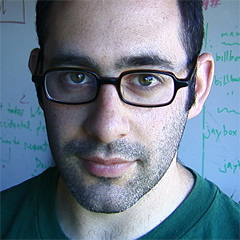 Golan Levin, composer and conceptual artist
Levin headed a team — which included Scott Gibbons and Greg Shakar — in developing both the technology and the composition itself. Three systems were needed to successfully coordinate the piece, Levin explains. A database system was established to register the phone numbers of the participants in the cell phone orchestra and deliver their seating information to the second system, performance software that allows the controller to click on a computer screen and dial a particular person. Finally, a third system developed for the piece connects the performance software to the mobile switching center.
For the premiere, 200 participants registered their phone numbers at a web kiosk and, when the make of their phone allowed, a customized ring sound was downloaded onto their phone. They were then given a ticket instructing them where to sit in a 20 by 10 grid of seats. In this way, the operators were able to dial each of the phones to create sounds and patterns with the rings in a choreographed way, as if they were conducting an orchestra. A large mirror was placed in front of the audience so it could look at the orchestra, which was of course, itself. Playing off of the social implications of cell phones ringing in concert halls and public places in general, as soon as the connection was made, a concentrated spot of light would simultaneously be projected down on the ringing cell phone owner.
The composition itself is divided into three movements. For the first, Levin, Gibbons, and Shakar were on stage at computer terminals. "We were performing the orchestra or conducting it in a way by dialing them up," Levin explains, "and our interface basically allowed us to chose different sets of people based on their ring sounds." Beforehand, the various ring sounds had been divided into ten different categories based on which sorts of rings sounded compatible. "The composition of the first movement was basically running through different textures, so in a sense it wasn't composed note for note." However, he says, "there was movement through the textures because there was a kind of build that was created by how many phones we were ringing and which phones were ringing."
"We had a score which indicated which sets of phones would be available for us to ring. Then it was a matter of just being really in the moment and listening. So within the individual textures it was sort of semi-improvised."
The second movement showcased Gibbons performing a seven-minute solo on a set of six phones. "The phones were completely unmodified electronically, but we took their direct sound outputs from little speakers and connected those to a little mixer and amplified that. In this way we were able to make the sounds that we couldn't really get out of the audience phones, hear the touch tones," Levin explains. Gibbons worked to get as much variety out of six phones as he could, adding custom sounds, developing a technique of skipping around between ring sounds very quickly in preview mode which "sounded like a heavy metal guitar solo over other beat box things he had created, almost like a jazz scat solo." In the final movement, Gibbons and the orchestra joined forces to create a mÈlange of ringing sounds, both amusing and beautiful.
Though individual tests along the way proved that the components would work independently, Levin admits that it was only ten days prior to the concert that they were actually able to ring the phones from the interface. Adjustments were still being made the night before the premiere.
During the development phase, the delay from sending the dial command to the time a phone would ring ended up being a very substantial factor in how the composition was structured. "We computed that the average delay was 4.76 seconds between the time that the phone request was made and the time that the phone actually rang," Levin says. "But depending on the phone model and network condition it would vary as little as 3.5 seconds to as much as 5.5. Because it was a variable delay, we couldn't ever actually know for sure when the a certain note was going to happen so the composition became sort of very Cagian, sort of managing chaos, managing randomness."
The management strategy involved pairing sounds together by concentrating rings in a cluster of related keys and a family of tempos (based on 125 beats per minute). "By locking everything together that way, even if things sort of fell at a strange time they would be somewhat in tempo, they might align strangely but still sound ok."
The piece was performed twice that afternoon, but each performance was unique. Ironically, on-stage communication problems cropped up between Levin, Gibbons, and Shakar during the first try. "The radio sets weren't working due to interference with the phones, so for the second show an hour later, we just had a phone conversation. I think it's kind of funny that in the end the answer was cell phones:The second performance sounded so much better because we were much more coordinated."
Musically, Levin feels they were really able to accomplish something and is hoping to put out a recording of the piece in the near future. In the meantime, he has posted sound samples on his Web site. "There are sections that have completely beautiful sounds : pure drones, highly specialized sounds, chords, sounds a lot like bagpipes. It's lovely and there's nothing about it that's funny. There are other parts of it that are quite funny. I think we were trying to tap into the love/hate relationship people have with [cell phones]. We love them because everyone has them but we hate them because they're annoying, and so I wanted the piece to reflect that."
And in some ways, Levin says the piece was simply a response to the medium, and answer to the question 'What is the sound of 200 phones ringing?' Also, Levin points out, "it means something when a phone rings, it makes you feel a certain way." Feedback from the orchestra drove this point home. Some participants mentioned how awkward they felt when their phones rang, even though they were "supposed to." And beyond that, one man confessed that he was jealous that the woman seated next to him was called more frequently than he was.
When the conversation turns to the 29-year old composer himself, Levin gets a little shy. Wearing the hats of artist, musician, composer, designer and teacher, Levin considers himself principally involved in what he terms "spacio-temporal design — designing experiences that occur in time and space. So a lot of what I think about is structuring time and that can take the form of sound in time or image in time or both. Some of my stuff is purely visual, but I think of it often in musical ways, especially the stuff which related to abstract animation," he says, mentioning heroes such as Oskar Fischinger. "I think of it as musical even though there's no sound, as perverse as that sounds just because it's about structuring time in a way that's very analogous to if not directly musical."
Though much of Levin's art is designed to include a significant amount of viewer participation, Levin does feel he maintains a high degree of control over each interactive project. "The difference is that with interactive art you have to pop up a level and you're not making an artwork, you're make a meta-artwork. And the meta-artwork can be just so, but what the meta artwork is is a system that has certain variabilities and certain properties, and in that sense I really strive to be a perfectionist, but one level down it absolutely is a collaboration between myself as the system designer. And then the user, whoever that person is, comes to it and experiences the system and also brings it to life and add something of themselves into the mix."
"To make something that's good and worthwhile is difficult, but that's true in any medium, and I think a lot of interactive art insults people by either giving them too little or too much."
Levin will be performing another audiovisual project, Scribble, at the American Composers Orchestra OrchestraTech conference this month. Though his performance will not involve the orchestra, he has given some thought to the mixing of the two mediums. "There's a cheesy way of doing anything, and there's a good way. I can't say unilaterally yes or no whether electronic instrumentation or electronic interaction or electronic processing can be used with the orchestra, but I can say for sure that people should give a little bit more thought before doing so and not do it because of the hype."
It's a guiding philosophy he feels applies across the board. "I think [music] has to be thoughtful. Any piece of new music can be cheesy it seems to me and if it's done earnestly, maybe even more so. I think it takes a great deal of self awareness, not like Buddha, but musical self awareness and knowing what's going on in the world."
A fan of musical styles ranging from electronica to bubble gum, Levin points out that in a world of so many methods and philosophies, "the $1 record bin is the great equalizer. It's classical, it's new wave, it's everything. You can mix it and sample it equally. It's just a piece of vinyl or plastic."