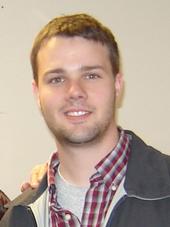 Clint Needham
Composer Clint Needham has been named the winner of American Composers Orchestra's 2007 Underwood Emerging Composers Commission, bringing him a $15,000 commission for a work to be premiered by American Composers Orchestra. Chosen from nine finalists, Needham won the top prize at ACO's annual Underwood New Music Readings with his work, Earth and Green. ACO singled him out as a composer who "knows how to both orchestrate and create a compelling music narrative. His music demonstrates remarkable range and color," says ACO artistic director Robert Beaser.
Clint Needham, originally from Texas, is currently a Jacobs School of Music Doctoral Fellow in composition at Indiana University. He received a bachelor's degree from Baldwin-Wallace Conservatory and a master's degree from Indiana University. He has studied with David Dzubay, Per Mårtensson, P.Q. Phan, Sven-David Sandström, Richard Wernick, and Loris Chobanian. He has also studied with Robert Beaser, Sydney Hodkinson, Christopher Rouse, and George Tsontakis at the Aspen Music Festival as a Susan and Ford Schumann Composition Fellow.
---

Listen to a sample from
Clint Needham's Earth and Green, performed by the IU Ad Hoc Orchestra. (Excerpt featured with permission.)
---
Prior to his participation in ACO's New Music Readings, Needham's music has been performed by the American Brass Quintet, Aspen Contemporary Ensemble, Cleveland Chamber Symphony and the Oberon Trio, among others. Recent awards include a New York Youth Symphony First Music Commission, ASCAP/Morton Gould Young Composer Award, Washington International Competition for Composers Award, Brass Chamber Music Forum Award, and an International Trumpet Guild composition award. Last month, Eartth and Green received the William Schuman Prize as the most outstanding composition in the 2007 BMI Student Composer Awards. His music is published by Brass Chamber Music Press, Southern Music Company, and Triplo Press. His brass quintet will be included on an American Brass Quintet CD entitled Jewels, which is scheduled to be released later this summer.
The 17th annual New Music Readings are scheduled for May 6 and 7, 2008, at the Skirball Center for Performing Arts in New York City. The submission deadline for composers interested in applying is November 16, 2007.

Complete submission guidelines and application will be available in print and online this August at www.americancomposers.org/nmr/, by email, or by calling 212-977-8495.