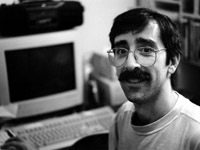 James Legg
Photo courtesy Michael Torke
Composer James Legg died suddenly on November 20, 2000.
Mr. Legg began his training in music composition at the Juilliard School of Music while still a teenager and went on to receive a Bachelor of Music degree from the Eastman School of Music and an M.A. from Duke University where he worked with Robert Ward.
Among the many awards he received were: the Charles Ives Scholarship from the American Academy and Institute of Arts and Letters, a Fulbright Hayes grant for study in Italy with Hans Werner Henze, a National Institute for Music Theater grant for an internship with Thea Musgrave and the Virginia Opera Association, a grant from Meet the Composer, and three awards from BMI, among others.
Legg has been a composition fellow at Tanglewood's Berkshire Music Center, the Aspen Music Festival, the Banff Centre for the Arts, the Bellagio Center (run by the Rockefeller Foundation), the Virginia Center for the Creative Arts, the Atlantic Center for the Arts, and at Edward Albee's artist colony, The William Flanagan Memorial Center.
He was commissioned by Joseph Papp of the New York Shakespeare Festival, the Houston Grand Opera, and the New York Youth Symphony which premiered his "Manhattan Overtures" in Carnegie Hall.
He wrote six one-act operas for the stage, one of which was commissioned by the Houston Grand Opera and is based on a play by Bertolt Brecht. At the time of his death, he was also working on his first full-length opera, based on Arthur Miller's play All My Sons.
In addition, Legg worked as a musical assistant on the Broadway shows The Phantom of the Opera, City of Angels, Will Roger's Follies, Jelly's Last Jam, Five Guys Named Moe, Kiss of the Spiderwoman, Jekyll and Hyde, The Life and Rent, among others.
Mr. Legg composed scores for several feature films, including Dirty Laundry, starring Tess Harper and Jay Thomas, and A Texas Funeral starring Martin Sheen. Legg also composed the scores for almost a dozen independent films, and was assistant composer on several studio films such as The Butcher's Wife, Defending Your Life and Mr. Wonderful.
A memorial service for James Legg will be held on February 12, 2001 at Lincoln Center's Mitzi E. Newhouse Theater.
Please click here for Michael Torke's tribute to James Legg.