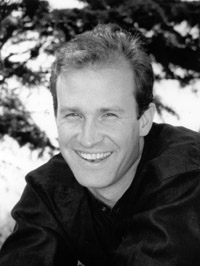 Artist-in-Residence for the Institute for Advanced Study, Jon Magnussen
Photo Courtesy of Jon Mag
Jon Magnussen has been appointed Artist-in-Residence at the Institute for Advanced Study in Princeton, New Jersey. As such, he will lead the annual concert series, introduce new works, and present lectures on new music. Established in 1994, Institute Director Phillip Griffiths explains that the program's purpose is to have "a musical presence within the Institute community, to have in residence a person whose work could be experienced and appreciated by scholars from all disciplines. Equally, we wanted to provide the opportunity for an outstanding performer or composer with strong scholarly interests to pursue his or her art while at the Institute."
Magnussen has composed music for the concert hall, drama, and dance. He is noted for his work with the José Limón ballet and for pieces that combine acoustic and electronic instruments. His recent critically acclaimed projects include " The Winged," a José Limón ballet scored for chamber orchestra, and "Death and Eros," for amplified cello, flute, percussion, keyboard, vocalist, and MAX/msp (a real time, interactive computer programming environment), which he conducted at UCLA.
Born in Sierra Leone and raised in Hawaii, he holds degrees from Cornell, the Conservatoire National Superieure de Musique de Paris, and the Juilliard School, where he earned his doctorate in 1999.
Magnussen is currently at work on "Psalm," a new score for the 1967 José Limón ballet written for chorus, chamber orchestra, and baritone. At the Institute, the New York Percussion Quartet will premiere his "Ko'olau Sketches" in October, and two additional works now in progress are already slated for performance later in the season, one for baritone Sanford Sylvan and pianist David Breitman, and another, for piano and electronics, which will be performed by pianist and former Institute Artist-in-Residence Robert Taub.
Griffiths hopes Magnussen's presence within the Institute community will allow "an exploration of the opportunities and challenges facing today's composers in a changing technological landscape. We are very enthusiastic about having Jon with us at this very important stage in his career."
Molly Sheridan corresponded by email with Magnussen to find out more about his plans for the residency in addition to asking him a few philosophical questions about being a composer. A transcript of that exchange appears here.