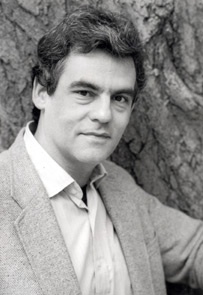 Composer Mark N. Grant
Composer Mark N. Grant has picked up the Eric Friedheim Foundation's first grant for contemporary music since the Kennedy Center Friedheim Award competition ended in 1994. The prize will fund the commission and performance of The Rose of Tralee, a 40-minute dramatic cantata Grant is writing for the New York-based chorus and orchestra Amor Artis. The premier is slated for the spring of 2007.
Grant is writing original text for The Rose of Tralee, loosely based on the well-known Irish legend of the same title. The cantata will be sung partly in Irish Gaelic, partly in English, and will include spoken dialogue and soloist roles.
The Friedheim award has delivered not only financial support to the project, but also a spark of inspiration to the composer. "Any commission with public performance assured is a fertility drug for a composer's invention," Grant acknowledges, "and knowing the specific venue and performers becomes a whetsone to distill one's creative conception in ways that would not occur to you if you're writing a free piece for the drawer."
Grant has composed a body of vocal and instrumental music, opera, and work for music theater. He is also the author of two Deems Taylor Award-winning books, Maestros of the Pen: A History of Classical Music Criticism in America (1998) and The Rise and Fall of the Broadway Musical (2004).
Grant is not the first composer to find support through the Friedheim Foundation. From 1978 to 1994, the now defunct Kennedy Center Friedheim Award for best contemporary American composition supported the work of composers such as Christopher Rouse, Osvaldo Golijov, Steven Mackey, Ralph Shapey, George Rochberg, Donald Martino, and David Lang. Eric Friedheim (1910-2002), a lifelong journalist, was a noted philanthropist. In addition to the Kennedy Center Friedheim awards, he also made significant bequests to the National Press Club and the Peabody Institute of Music.
Grant is hopeful that the backing of the Friedheim award will impact not only this piece, but his larger career. He points out that "Bach's passions and cantatas were his marquee items. Cantatas, whether sacred or profane, can be tremendous pieces of musical theatre. Look how iconic the music of Carl Orff's Carmina Burana has become—even Hollywood and Madison Avenue lift it. Look at Prokofiev's Alexander Nevsky, or Elgar's Dream of Gerontius—tremendous human dramas. For a composer/librettist, this is an opportunity to work with the complete musico-dramatic palette—orchestra, chorus, soloists, text, even site—sans opera house."
Grant also speaks highly of the both the commissioning ensemble and the opportunity they have provided him with. Founded in 1961, Amor Artis is probably best known for its authentic baroque oratorio performances. However, they have also included the 20th-century cantatas of composers such as George Antheil, Carlos Surinach, and Ernst Toch in their repertory. There's also something to be said for their selected venues. "The acoustic architecture and archaic ambiance of large churches like Blessed Sacrament or St. Jean Baptiste, Amor Artis's venues, add enormously to the pure impact of sung drama," notes Grant. "They're ritual settings, which, too, creates a sense of theatre."
He adds, "I think for a contemporary composer, composing for chorus and orchestra in a large church can be a way of going back to the future."