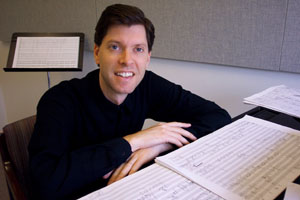 Photo by David Long,
Courtesy Chamber Music Society of Lincoln Center
Houston-based composer and pianist Pierre Jalbert has been awarded the Chamber Music Society of Lincoln's Center's 2007 Elise L. Stoeger Prize. Chamber Music Society co-artistic director Wu Han made the announcement at the first-ever ceremony held for this prize at Lincoln Center's Rose Studio on Tuesday, March 20, 2007. At 39, Jalbert is one of the youngest composers ever to receive the $25,000 prize which is now awarded biennially in recognition for a body of work, or lifetime achievement in the field of chamber music composition, rather than for a specific piece of music.
"It's very exciting for me to be getting this, and it was completely out of the blue," exclaimed Pierre Jalbert via telephone from his hotel room in New York where he arrived yesterday to attend a rehearsal for his 2004 composition Icefield Sonnets for String Quartet. The Escher Quartet performed the work at the Chamber Music Society of Lincoln Center ceremony.
"I've been writing both chamber and orchestral music back and forth over the years, but certainly chamber music is a really important part of what I've been doing. One of the things that makes it so different from orchestral music is that lots of times I know the people that I am writing for pretty well. They also usually have almost unlimited rehearsal time to put the thing together, so it automatically makes it a different experience, at least in the premiere, from orchestral music. And it's interesting, especially if a group plays a piece multiple times, to hear how it evolves the more they play it."
As an active pianist himself, Jalbert's music naturally gravitates toward the piano and he writes very idiomatically for his instrument. But he's quick to point out that some things can't emanate from the piano. "My being a pianist certainly makes its way into everything I write with the piano at least, although writing for strings or the orchestra, I've learned to get away from it. I spend half my time away from the piano, and half my time at the piano."
To date, Jalbert has composed over a dozen chamber works, mostly for standard combinations such as piano trio, the now ubiquitous "Pierrot"/"Pierrot plus" ensemble (flute, clarinet, violin, cello and piano, with or without percussion), and three string quartets.
---

Listen to an excerpt from Pierre Jalbert's first String Quartet (1995), performed by The Maia Quartet (from Pierre Jalbert – Chamber Music, Gasparo Records GSCD-361)
---
"There are more opportunities to get a string quartet played. I like to write for groups that are more common than some other interesting combination that might not have much repertoire written for it. But there's a weighty tradition—I know that music well—but I try not to let it be too much of a burden or to question everything I do. But I've written for other combinations like saxophone and piano and I'm actually now writing a string trio. It isn't a particularly oddball combination but it doesn't have quite the huge repertoire that the string quartet does. I try to just let my instincts take over, just keeping in mind that we're all part of this grand tradition that goes back a long time."
Thus far, Jalbert has not composed much music for the voice, although many of his instrumental compositions have narrative associations which carry religious connotations: "It's just a place that I sometimes get inspiration from. It comes from my background, but it's not something I necessarily think people need to know in order to appreciate the music. There have been a bunch of pieces where I've used Gregorian chant, not necessarily specifically identifiable chants, but excerpts from chants in the background of a more contemporary environment. Two ideas that I use a lot are this sort of ethereal music, which I label as sacred, and the other secular music, which is more angular and rhythmic, syncopated, faster, or more aggressive."
---

Listen to an excerpt from Pierre Jalbert's Visual Abstract (2002), performed by The Pittsburgh New Music Ensemble (from Pierre Jalbert – Chamber Music, Gasparo Records GSCD-361)
---
While Jalbert is on the roster of the Theodore Presser Company which administers his orchestral scores and parts, Jalbert's chamber music is still all self-published: "I've been holding onto a lot of stuff for a while now, because I feel —especially with chamber music—that it's easy enough to get out to people without too much trouble. At some point, I'd like to publish it but for now I'm happy with the way things are set up."
Pierre Jalbert, who has served as composer-in-residence with the Los Angeles Chamber Orchestra from 2002 to 2005, is currently Associate Professor of Composition and Theory at Rice University's Shepherd School of Music, and is a member of Musiqa, a Houston new music group. His compositions have been performed throughout the United States and abroad, including four Carnegie Hall performances of his orchestral works, one of the most recent being the Houston Symphony's premiere of his orchestral work, big sky, in January 2006. He has also been commissioned and performed by violinist Midori, the Chamber Music Society of Lincoln Center, the Ying Quartet, the Seattle Symphony, Albany Symphony, Vermont Symphony, Fort Worth Symphony, Santa Rosa Symphony, the Fischer Duo, the Pittsburgh New Music Ensemble, Zeitgeist, Network for New Music, and the Maia, Enso, and Chiara String Quartets. Previous accolades for his music include the Rome Prize, the Bearns Prize in Composition, a Guggenheim fellowship, BMI and ASCAP Awards, a Society of Composer's Award, and the top honor in the BBC's Masterprize in 2001 for his orchestral work, In Aeternam. A CD recording of four of his chamber music compositions, along with his own performance of his solo piano Toccata, was issued in 2004 by Gasparo Records.
The Stoeger Prize, established in 1987, is named for Elise L. Stoeger (1922-1983), at the bequest of her widower, the late New York-based psychoanalyst and translator Milan Stoeger, both of whom were subscribers to the Chamber Music Society of Lincoln Center. Previous honorees of the prize, which is open to composers from around the world, include Gunther Schuller (the first recipient), Thomas Adès (the youngest to be honored thus far), Chen Yi, Steven Mackey, Kaija Saariaho, and David Rakowski. The Stoeger Prize is not a competition and composers themselves may not apply directly. Composers being considered for the prize must currently be active in creating new chamber works. In keeping with the intentions of the donor, the prize is to recognize and reward composers who are not already at the forefront of their profession; further, it is to sustain a composer for creative work that he or she might not otherwise be able to accomplish or bring to fulfillment without such help. The judges for the 2007 Stoeger Prize were Kristin Lancino, David Finckel, Wu Han, Bruce Adolphe, Heather Hitchens, Ara Guzelimian, Anthony Fogg, and Jeffrey Kahane.
Recipients of the Elise L. Stoeger Prize
1987
Gunther Schuller
(Published by G. Schirmer/Associated Music Publishers)
1990
Oliver Knussen
(Faber Music, distributed in the USA by Boosey & Hawkes)
1992
Lee Hyla
(Carl Fischer/Pembroke Music)
Olly Wilson
(G. Schirmer)
1993
Aaron Jay Kernis
(G. Schirmer/Associated Music Publishers)
Nicholas Maw
(Faber Music, distributed in the USA by Boosey & Hawkes)
1994
Oleg Felzer
(self-published)
Richard Wilson
(Peermusic Classical)
1995
David Liptak
(MMB Music)
Steven Mackey
(G. Schirmer/Associated Music Publishers and Boosey & Hawkes/Hendon Music)
1996
Martin Bresnick
(Carl Fischer)
Osvaldo Golijov
(Universal, now self-published)
1997
Stephen Hartke
(MMB Music)
Judith Weir
(Chester/Novello, distributed in the USA by G. Schirmer/Music Sales)
1998
Thomas Adès
(Faber Music, distributed in the United States by Boosey & Hawkes)
Yehudi Wyner
(G. Schirmer)
1999
James Primosch
(Theodore Presser)
Scott Wheeler
(self-published)
2000
Michael Daugherty
(Peerclassical/APRS)
Kaija Saariaho
(Chester/Novello, distributed in the USA by G. Schirmer/Music Sales)
2002
Chen Yi
(Theodore Presser)
2004
David Rakowski
(C.F. Peters)
2006
Pierre Jalbert
(Theodore Presser/Merion Music, chamber music self-published)