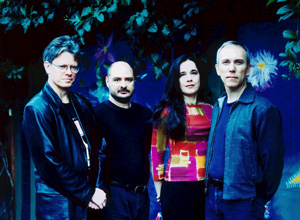 Photograph by Jay Blakesberg (c)
Left to right: David Harrington, John Sherba, Jennifer Culp, Hank Dutt
Background mural artist: Fran Valesco
Hard to believe, but the ever daring and innovative Kronos Quartet turns 30 years old next season. In honor of the milestone, the group has announced the "Kronos: Under 30 Project," a commissioning and composer-in-residence program for composers who came of age along with the ensemble.
"People have been asking me what's it like to have done Kronos for 30 years," founder David Harrington says. "I don't have any idea. What is 30 years? The only way I can think of it is to look at a 30-year-old person and step outside of what we've been doing. Contact people that are the ensemble's age or younger and see what kind of music might be happening."
In collaboration with the Hopkins Center at Dartmouth College and the American Music Center, the program will support the creation of new work by young artists while at the same time introducing the quartet to the new musical voices of the next generation.
Kronos: Under 30 Project
The Hopkins Center will be the presenting partner of the Kronos: Under 30 Project during its inaugural year and will receive the composer submissions. Kronos will review the composer submissions and will select the composer to whom the group feels most artistically committed. The Hopkins Center and Kronos will then commission a new work for string quartet from the selected composer. The commissioned composer will join Kronos in a weeklong residency in San Francisco, California, to prepare the work and a half-week residency at the Hopkins Center, which will culminate with the world premiere of the work.
Guidelines and eligibility:
Composer's birth date must be on or after August 16, 1972.
Composer can be of any nationality.
Composer must be able to agree, if selected, to compose a string quartet for Kronos and provide score and parts to Kronos no later than March 1, 2003.
Commission — The selected composer will receive:
A commission for a new work for string quartet in the amount of $5,000. (Commission fee includes score, parts, any other necessary performance materials and copying costs.) The length of the new piece will be determined by mutual agreement with the selected composer, but will be in the range of 10–20 minutes.
Travel and accommodations for one week of rehearsals with Kronos to prepare the new work from March 10–14, 2003, in San Francisco, California.
Travel and accommodations for a half-week residency with Kronos at the Hopkins Center at Dartmouth College from April 3–5, 2003. The residency will include open rehearsals, other residency activities and the world premiere of the new work in concert on April 5, 2003.
Complete guidelines and an application are available at: http://www.kronosquartet.org/under30/
under30.htm.
In line with the quartet's "go-anywhere-fearlessly" reputation, Harrington says he's free of expectations about what kind of composer will be selected. "What I'm always looking for, and have been since 1973, is for individual voices where the viewpoint and the resultant music comes from a distinctive personality and a distinctive outlook on the world and the world of music." And Harrington has no conceits about what defines or qualifies a composer. In addition to those with formal conservatory training, "there could be composers from pop groups, alternative groups of various kinds, film composers that we hadn't been in touch with yet. Who knows, and it could come from any part of the world. That's what's exciting to me."
Working with the under-30 set, though, is really no stretch for the group. Kronos collaborated with Mexican avant-garde rockers Café Tacuba on it's recently released disk Nuevo and has joined forces with the ambient strains of Iceland's much-hyped Sigur Rós. "I think that's part of the inspiration, you know. You just don't know where the next incredible musical experience might come from," Harrington points out. "I expect that whoever [the Under 30 composer] might be is going to bring a new background, a new kind of listening, maybe a whole new vocabulary to our rehearsals and I look forward to that. I think that's the way things progress in the world of music."
And in Harrington's view, there's a huge pool of musical possibilities out there and we've only just touched the surface. "There are so many things that haven't been done in music. Some people talk about how everything has been done. Well, I think hardly anything has been done, so there are all kinds of things to do and I guess my belief remains that the greatest piece of music is yet to be heard, yet to be played, yet to be written. I'd like to be there whenever that might happen, but that's the challenge for all of us."
For the last 30 years, Kronos has set a remarkable precedent as to what an ensemble working in new music can accomplish in pursuit of great musical experiences. Their recording and commissioning record is inspiring to many up-and-coming ensembles and composers, though often seemingly out of reach. Even in today's environment, Harrington thinks it's still possible to have the kind of career they have, but he also reminds those who seek to emulate them of the amount of work and patience it takes. "To take the manuscript from the composer and put into a rehearsal and bring the composer there, to make a new piece happen with a new vocabulary in front of an audience that's never heard this music, and just to make the experience really happen, it takes so many different elements."
Kronos has been bringing those elements together for composers and audiences since 1973, when Harrington first heard George Crumb's Black Angels on the radio, after midnight with the volume up, and knew what he wanted musically out of life. "I loved it. It changed my whole life. That's the kind of music I wanted to play and that I'm looking for. I really think that's the kind of music people want to write and audiences want to be close to, music that can kind of make us look at our whole existence in a refreshed newly energized way that might lead us somewhere special."