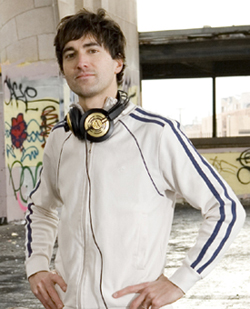 Mason Bates
Twelve days before the 2009 Van Cliburn International Piano Competition actually drew to a close in Fort Worth, a winner was declared: composer Mason Bates.
Yes, yes, the real winners of the 17 days of concerts were pianists. Two gold medals were awarded this year in a ceremony on June 7: one to Nobuyuki Tsujii, 20, of Japan and one to Haochen Zhang, 19, of China. But once again the Cliburn also held a composition competition, the American Composers Invitational, and the results for that unique race were decided when the 12 semi-finalists were named on May 27. (For a full description of how the ACI was established and the past history of new works at the Cliburn see "Composers in Cowtown.")
Back in February in New York, composer John Corigliano chaired a jury comprised of composers Samuel Adler and Melinda Wagner and pianist Ursula Oppens, that reviewed submissions of newish piano works, between 8 and 12 minutes in length, received from 28 composers. Four finalists were selected:
Mason Bates: White Lies for Lomax
Derek Bermel: Turning
Daron Hagen: Suite for Piano
John Musto: Improvisation & Fugue

All four pieces were sent to the 30 Cliburn competitors in early March. Every competitor had to decide on one for inclusion in a recital during the semi-final rounds, should he or she make it that far. The composer whose work is performed by the most semi-finalists receives $5,000, while the others get $2,500 each.
A couple of month prior to arriving in Fort Worth each pianist submitted the complete repertoire he or she would bring to compete, and it was all printed in the mammoth program book. Your diligent reporter tallied the non-binding votes of all 30 competitors, which was as follows:
Bates: 13
Hagen: 9
Musto: 6
Bermel: 1
But it's the choices of the semi-finalists, who actually performed the works in competition, that determines the winner of the ACI. And here's that tally:
Bates: 7
Hagen: 4
Musto: 1
Bermel: 0
Beyond the competition's admirable and rather clever efforts to foster new works, the majority of music performed came from Europe and the classic and romantic eras, along with a healthy dose of early 20th-century material as well (Rachmaninoff, Ravel, Prokofiev). Here's a run-down of the contemporary or modern works from the submitted repertoire (again, not everything got played because some pianists were cut from the field before they got a chance to perform all their prepared music).
Samuel Barber: Piano Sonata Op. 26 (from three pianists)
Alban Berg: Sonata Op. 1
Pierre Boulez: Douze Notations
York Bowen: Toccata Op. 155
Aaron Copland: Piano Variations
John Corigliano: Etude Fantasy
Elliott Carter: Catenaires
Aaron Jay Kernis: Superstar Etude No. 2
Arnold Schoenberg: Klavierstücke, Op. 11
Toru Takemitsu: Rain Tree Sketches (from two pianists)
Carl Vine: Piano Sonata (1990) (from two pianists)
Of these works, two were actually performed during the final round: The Takemitsu by Evgeni Bozhanov of Bulgaria and the Schoenberg by Di Wu of China.
If there were prizes for the Cliburn competitors with the best demonstration of a commitment to contemporary repertoire (modest as it might be), they would go to Andrea Lam of Australia, who selected the Kernis and the Corigliano, and Spencer Myer of the U.S., who selected the Copland and Vine.
The award for best performance of a new work went to Tsujii, one of the gold medalists, who was the only competitor to perform the Musto piece. An audience favorite from the beginning and rare human interest story, Tsujii has been blind since birth and he learns all of his repertoire by ear. He's said to be a talented improviser as well as an aspiring composer. During the final press conference when I asked if he had a taste for American music, he replied, through the aid of an interpreter, that he has always enjoyed jazz and meeting Stevie Wonder was the highpoint of his life, at least until winning the Cliburn gold.