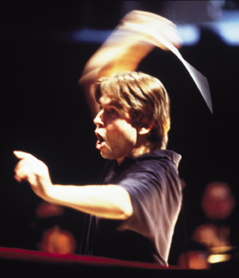 Composer/conductor Esa-Pekka Salonen to mentor collaborations across the two disciplines.
Photo credit by Clive Barda-PAL
The Los Angeles Philharmonic has unveiled Synergy: Composer and Conductor, a new five-day intensive workshop designed to foster relationships between young conductors and composers and to provide both with constructive experience working in front of a full symphony orchestra.
The Philharmonic has partnered with the American Symphony Orchestra League, the American Music Center (AMC), and the University of Southern California Flora L. Thornton School of Music to present the workshop in September 2002 for up to four conductors and composers. The week will culminate with a live concert performance of the participating composers' work led by the conductors.
Synergy was conceived by the ASOL and Los Angeles Philharmonic Music Director, Esa-Pekka Salonen. Salonen, a critically successful composer as well as conductor, brings considerable firsthand experience to the fledgling program. He says that he first turned to conducting in order to hear his own works performed, and experiences since then have led him to recognize the importance of mentoring collaborations across the two disciplines.
"I think it is vital for young conductors to form strong relationships with composers of their own generation and vice-versa," explains Salonen. "It is a very meaningful bond which enriches both artists, and my own relationships with composers such as Magnus Lindberg, John Adams, Steven Stucky, and Kaija Saariaho who have been an important part of my musical life."
During the workshop, which will take place from September 23-28, 2002 on the USC campus, each of the four conductors will rehearse and perform a work by one of the four composers with an orchestra of musicians drawn from the Los Angeles Philharmonic and the USC Thornton Symphony. In addition to Salonen, the workshop faculty will also include Philharmonic Associate Conductor Miguel Harth-Bedoya, Philharmonic Consulting Composer for New Music Steven Stucky, and selected Philharmonic musicians. Staff from the League and the AMC will also lead professional development curriculum.
"This project fits perfectly with the profile of the Los Angeles Philharmonic and our Music Director Esa-Pekka Salonen," noted Managing Director Deborah Borda when the project was announced. "The Philharmonic has long been a champion of emerging talent and contemporary music, and with Esa-Pekka's international reputation as a composer and conductor, Synergy will be a truly unique educational opportunity."
Jesse Rosen, Chief Program Officer of the ASOL, agrees. "Salonen is such a phenomenally gifted man. I've talked to him about teaching and I know that he is not only a natural teacher, but he's also thoughtful about pedagogical issues. So I just think he has a tremendous amount to offer. And both in the compositional world and the conducting world there's a big need for really gifted talents and teachers to pass along what they know to younger people."
Rosen also points out that by several organizations joining forces, a "great synergistic relationship is created because each entity is working out of it's strengths, bringing to the table what it has to offer. The LA Philharmonic has its orchestra, music director, and musicians, the League it's reach into the developing conductor world, and the AMC the support of American composers."
When the program was first proposed to AMC Executive Director Richard Kessler, he also saw that it would be a good way to encourage the development of talented composers and conductors. As the planning began, he recalls, "We started asking ourselves, 'How can we help develop this great opportunity and also directly relate it to our mission of building a national community for new American music? What are the challenges composers face when writing for the orchestra? What is the best way for the next generation of composers to achieve excellence in that realm?' "

By carefully addressing these issues during the development phase, Kessler sees opportunities in the design of the Synergy program that don't exist elsewhere. "There are several unique aspects about this program, one of which is the performance element. Many competitions or programs of this nature are reading sessions, often because the amount of time the orchestra has available is limited. While these are worthwhile programs, they don't have the added benefit of a public performance, which is important for a composer's education and career. Another element is the composers' partnership with their conducting peers. The idea is that in addition to the practical experience and education the participants will receive during the week, conductors and composers will forge lasting relationships which will encourage the new generation of conductors to perform new music and champion their composer peers."
Synergy will also include professional development programs directed by the ASOL and the AMC to accompany the practical work with the orchestra. Sessions will address such topics as how a composer should interact with a professional orchestra, how to build a productive relationship with the music director, and perhaps a session on talking about music. Though it may seem otherwise, Rosen explains, many of these things are not obvious. "There are things a composer needs to know about how orchestras are set up, how the library works, how orchestra personnel function, the protocol during rehearsals, that kind of stuff. And there are equivalents of that with conductors."
Participating composers and conductors will be selected through competitive application by a panel from the ASOL and the AMC, though the final decisions will be made by Salonen. Conducting applicants are expected to have completed an undergraduate degree in music and have some professional experience. Composers should demonstrate orchestral technique but not have had a significant number of orchestral performances. Undergraduate students are not eligible, but graduate and post-graduate students are encouraged to apply. There is no age restriction. Both should be in the early stages of their careers. Up to six additional composers and conductors will be invited to audit the workshops.