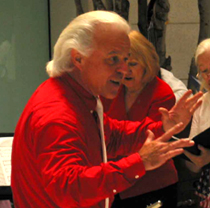 Martin Piecuch
Somewhere in the midst of debate over homeland security and military action in Iraq, Congress recently took a moment out of a busy schedule to support American music. A joint resolution (H.Con.Res.183) was passed on September 12, 2002 recognizing the U.S. Congressional Philharmonic Society led by music director Martin Piecuch. The organization consists of a professional orchestra and a choral society primarily made up of Capitol Hill staffers and Congressional member volunteers.
Part of the society's mission is to promote symphonic music by American composers, so the Congressional mandate is especially important to the philharmonic. The concept was conceived in the office of then Representative Robert Livingston of Louisiana, after he had performed with Piecuch in a production of "1776" which featured several other congressmen and senators as well. As Piecuch recalls, even congressional members "not necessarily pro-arts funding had a surprising amount of fun" during the production, and he was inspired to try and keep them actively involved in the arts.
Since then the organization has given intermittent performances in the capital, but with this nod from Congress, Piecuch says they are ready to charge full ahead. "Now that we've got the mandate we are seeking to put together a solid board of directors and fundraisers." If all goes as planned, Piecuch says they are "softly talking about an inaugural concert around Flag Day" and hope to be able to announce a modest season of four or five concerts for next year.
To secure Congressional approval, Piecuch spent over a year programming 65 thematic concerts, the first fifty of which honor each state. The plan is to present the concerts in the order the states entered the union as a way to celebrate each in Washington. Over 250 composers are represented by works selected, connected to the states because the composers were either born or lived there or because they were inspired by a place or event.
Piecuch illustrates the concept using New Jersey as an example. That program includes Peter Westergaard's Ringing Changes, Roger Sessions's Suite from The Black Maskers: Suite, Nelson Riddle's Chaconne for Orchestra, a suite from Julian Livingston's opera called Molly, plus a reading of the state song, "I'm from New Jersey," by Red Mascara. He quickly rattles off the programs for four other states before admitting that "the amazing thing about the cycle is I have only tapped the tip of the iceberg here. There is so much talent in the state that we could easily go around again."
As a frequent guest conductor in Europe and Russia, Piecuch says he has long felt like an unofficial ambassador of American music abroad. "When I go over there, I take American music with me. Who am I to think I'm going to bring something new to the Beethoven or Brahms that all of their conductors have been doing for them for so long?" He will now have the opportunity to display that passion for American repertoire more fully here at home. "Some people who don't know contemporary music think that it has to sound bad to be good or something. I think there are quality issues with some of the things that get played, but the real truth of the matter is there's very high quality, wonderful music written by American composers." And Piecuch has made it his mission to see that it's showcased and celebrated in the nation's capital.