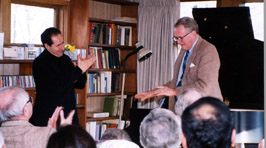 Photo by Marion Gold
The Copland House is inaugurating a new series called The Composer's Hour. The series is presented for Copland Society members and is hosted by Artistic Director Michael Boriskin.
Each program features an prominent composer speaking about creativity and writing music, introducing one of his or her major works, and discussing its origins and content. Boriskin feels that the lecture-concerts "will take viewers on a first-hand, guided tour of the creative process, and open a window into the composer's mind." After a live performance of the music by members of its resident ensemble, Music From The Copland House, and guest artists, the composer, the performers, and the audience engage in a discussion, following which the work is played again.
"The Composer's Hour will fill an important role in our work at The Copland House, where we try to enhance listeners' awareness and appreciation of America's rich musical heritage." Boriskin explained in an email. "For so many people around the world, Copland has come to personify the American composer." Boriskin thinks that for this reason, Copland's home makes an ideal place for "composers and music lovers [to come] closer together."
Francis Thorne "test drove" the first Composer's Hour in March with an exploration of his new piano work, Rhapsodic Variations No. 7, written for Mr. Boriskin. The series will restart in February 2001, and will be taped for web cast on NewMusicBox. Featured composers will include Ned Rorem, George Perle, Aaron Jay Kernis, Richard Danielpour, Lukas Foss among others.