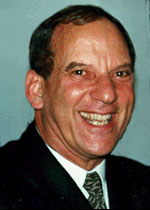 Ronald Freed
Photo courtesy ASCAP
Ronald Freed often said that he enjoyed being a music publisher because he enjoyed working with composers. And what composers they were… Ronald counted among his friends and colleagues Luciano Berio, Hans Werner Henze, Krzysztof Penderecki, Michael Tippett, Joseph Schwantner, Christopher Rouse, Stephen Paulus, Tobias Picker, Robert Beaser, Bernard Rands, Alvin Singleton, and many, many others. And those were just the composers he published or whose European publishers he represented.
Countless others, both known and unknown, looked forward to seeing Ronald at a concert, to hearing his reaction to their works, to sharing the latest news and gossip. Ronald was especially loved by others in the music business, who recognized in him every positive quality that someone in the music industry can aspire to: love of music, love of performance, love of copyright law, love of complicated business agreements, love of his colleagues, love of life.
What inspired Ronald Freed? It has been almost a year and a half since his death, enough time for the truly meaningful memories to percolate up, unbidden, and unstoppable. In addition to the "Ronald-speak" language that delighted his friends, with fun made-up words and phrases like "what a hoo hoo!," Ronald lived by a number of more profound epitaphs, mini parables, and stories of quasi-biblical import, often delivered theatrically in his beautiful stentorian bass-baritone voice. Here is one quote that has, unbidden yet unstoppable, come to mind several times and been an inspiration: When Ronald maddeningly insisted on perfection in every detail, as he always did, he would sometimes make his point with this story: "One day Michelangelo was asked why he bothered to beautifully sculpt every hidden detail of a statue, even the back of the head of a work placed high in a church where nobody could possibly see it. Michelangelo replied: I sculpt every inch of the statue, because even if no man can see those hidden areas, God can see them." Perfection. The quest for perfection. The demand of perfection. Inspiring, maddening, unique, memorable. That was Ronald Freed.
The story also shows that although Ronald was not a religious man in the traditional sense, like many musicians he was a very spiritual man. Music was his religion, in particular, the act of musical performance, for him a sacred gathering of people for a common spiritual experience. This he savored, and this is also why he was a great music publisher. He understood the power of music to move and affect an audience. He was in tune with the audience and, for his whole life, sought out composers who could move an audience with their work, composers who had the power to move many others. I remember on one occasion he was listening to a CD of a historic opera performance from Germany in the 1930s. He was spellbound not only by the music and the singing, but by the sounds of the audience themselves as heard in the ancient live recording, the applause, the murmurs, the coughs, the chatter. The audience itself fascinated him. "Listen to those people," he said. "And to think that by now, every one of them is gone!" To Ronald the audience was a living, breathing thing that existed for a brief moment, then, like the audience captured on the recording, ultimately disbanded, went on their way, and disappeared. Ronald savored and understood the unique moment and togetherness of the audience's musical experience. What an incredible person to be a music publisher, to seek that out, to inspire composers to seek that out. No wonder Ronald's ultimate critique of a performance was "heavenly!"
And now, like that noisy and appreciative audience on the recording, he too is gone, but undoubtedly still listening. Still inspiring others. Still gauging their reactions. Still looking for beautiful music to talk about, to share, to negotiate over, to find an international copyright law loophole. Still being dazzled by the beauty of it all, still wanting more than anything to help that beauty come into existence by publishing and supporting composers, and still exclaiming "heavenly!"
SOME ADDITIONAL COMMENTS BY RONALD FREED'S SISTER, DOROTHY FURMAN
To say that I am proud of my brother, Ronald, is truly an understatement. Being recognized by the American Music Center with the Letter of Distinction award is a beautiful tribute. I feel certain his aspirations to encourage the creation and performance of new and significant music are being realized.
When I think of the stature of previous recipients of this honor, I begin to realize the magnitude of Ronald's achievements. The generous outpouring of affection and admiration expressed as he was remembered by so many who shared his love of music is indeed amazing to me.
My sincere appreciation to the members of the American Music Center for honoring Ronald's memory. Music and laughter filled his life. May the joy we experienced in his presence continue to find its way to us whenever we think of him.