It is a scientific fact that Carmen will sell better than an unknown opera, and at a time when opera companies are under increasing pressure to maximize ticket sales, a number of deep breaths were drawn in the marketing department in 2000 when Florida Grand Opera commissioned a new work for its first season in Miami's new opera house. We were all aware of the challenges we would face selling "new music" to the conservative South Florida opera audience.
What I couldn't know at the time was that we would be creating an outstanding new work that would bring every audience to its feet in some of the loudest standing ovations I've experienced during my fourteen seasons with the company. I also couldn't know that the physical production would be one of the finest I've seen, or that I would find David Carlson's magnificent score more and more rewarding during each of the six performances I attended. By the final performance, all of us at Florida Grand Opera were certain that Anna Karenina had quite possibly been our greatest achievement in 66 years of producing opera.
The Commission
The world premiere of David Carlson and Colin Graham's Anna Karenina was a very long time in the making. When the Opera Theatre of St. Louis presented the 1993 premiere of Carlson's first opera, The Midnight Angel, Colin Graham, OTSL's artistic director, asked Carlson to consider composing the music for Anna Karenina to a libretto he had begun many years earlier for Benjamin Britten. Carlson knew Tolstoy's novel well and had in fact already begun to sketch out music for an opera without any concrete plans for a commission.
Florida Grand Opera's Music Director Stewart Robertson, who had conducted the premiere of The Midnight Angel, persuaded General Director Robert Heuer to commission the opera for the opening of Miami's new opera house, projected to open in 2003. Graham and Carlson began serious work on the project but construction problems delayed the opening until October 2006. Anna Karenina would receive its world premiere on April 28, 2007.
The Composition
David Carlson reports that there was no more demanding, authoritative, and knowledgeable a collaborator than Colin Graham. Conceptual issues were also in sharp focus, as Graham was to serve as the stage director, as well as the librettist. While Anna Karenina was Carlson's third opera, it was Graham's 56th world premiere in a career that included more than 350 productions. Carlson reports that often every syllable of the text for a scene was negotiated; when he felt that a really good melody needed two additional syllables, Graham would oblige him, and together they worked through every word of the text to achieve the best fit with the score. After the work was completed, Graham asked Carlson to reconsider the music that opens the opera, saying he felt Anna needed much stronger music. After some consideration, Carlson agreed and rewrote the opening pages.
The Artists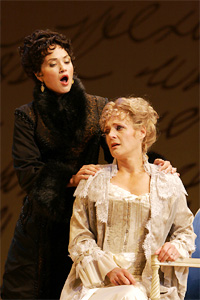 (L-R) Kelly Kaduce as Anna and Christine Abraham as Dolly
Early on, set designer Neil Patel and costume designer Robert Perdziola were engaged for the project. Mark McCullough was enlisted as the lighting designer. A good deal of the production's success was due to their collective contributions.
The playing area of the stage was a specially constructed deck with two concentric turntables. These could be rotated at various speeds together, in opposing directions, or individually in either direction. This enabled the many scenes that make up the opera to swiftly follow one upon another. Every cue for the committed troupe of supernumeraries who moved furniture and props was double booked so that if the turntables failed the performance could proceed without them.
Before rehearsals for Anna Karenina began in March, Colin Graham's health began to fail and when he became too ill to travel to Miami, he worked intensively with Mark Streshinsky, the assistant director. From his hospital bed, Graham reviewed every detail of his concept for staging, all of the thought behind it, and potential solutions for problems that might arise. They agreed that Streshinsky would direct the Miami premiere, with the hope that Graham would recover sufficiently to direct the Opera Theatre of St. Louis performances in June.
An astonishingly strong cast of singers had been engaged, most of whom remained intact for the production as construction delays necessitated the constant pushing back of contracts from year to year. Members of Florida Grand Opera's Young Artist Studio covered the principal roles.
The Experience
The first musical rehearsal for Anna Karenina was held on March 21, 2007, and it began with Mark Streshinsky reading a letter that Colin Graham had written to the cast. Here it is in its entirety.
Dear and very dear friends,

85% of you I have known, loved or worked with. The other 15% I have admired and heard so many good things about you from others.

Welcome to rehearsals for Anna Karenina! I hope you will understand when I say it is with the deepest sorrow I am not with you and will not see you until you arrive in Saint Louis—at which point I shall have to justify my fee, even if in spurious form. The reasons for this are all medical emergency, things that have been bad have gotten to be worse, ending in a good deal of collapse. I have at least one, but possibly two surgeries to undergo which will certainly keep me out of Miami.

There is no one but Mark Streshinsky whom I would trust more to take over David's beautiful opera for me—both the battles and the delights of getting it on to its feet for the first time. We have often worked together and, in the last few days when I have been passing the production over to him, have left me feeling even more secure, knowing that you will love him as much as I love you all and that all will be set fair.

So, on with the show. I've already sent you many pages of imprecation (with Oprah's help) and I just ask you now to examine closely every section of the novel in which your scenes occur. There is such a wealth of detail there, of the heart, of the face, of secret looks, that I think I can claim that 99% of the opera text is derived from Tolstoy's own descriptions. Please do seek them out – the search will reward and excite you as well as it will your viewers.

Someone once said if you really know all the implications of Wagner's thematic material you could get the whole story from the orchestra. In a lesser extent the same applies to David's Table of Themes: never stop listening for them or hearing them in your sub-text.

Trust Mark, pull and take and borrow and love with each other and all will be well.

All my love and blessings to you surpass my terrible disappointment. Jump aboard the Anna Kay and enjoy!

Much love, Colin
During rehearsals on April 6, the company received word that Colin Graham had died that morning, and Bob Heuer and Charles MacKay decided that the Miami and St. Louis performances of Anna Karenina would be dedicated to Colin's memory.
The singers and Stewart Robertson had all come to believe so deeply in the work during the rehearsals that they felt it very much need to be recorded. Good news arrived when we learned that Charles MacKay had secured funding to make a commercial recording of Anna Karenina during the performances at the Opera Theatre of St. Louis.
The six Miami performances were attended by 13,630 people; all performances were full, and the final three were sold-out. David Carlson attended each of them and went before the curtain with me to conduct pre-performance lectures. Each lecture was attended by nearly 1,000 people, and it was exciting to feel the audience connect with the composer as we discussed the process of creating Anna Karenina—which he had now been working on for fourteen years—how one goes about discarding 800 pages of a novel and still follow the fundamental story's thread.
There is much music of startling and arresting beauty throughout Anna Karenina. Many of our patrons who have long-held and deep-seated fears about new music were completely won over. By the final performance the artistic team, singers, and orchestra, along with the entire staff and Board of Directors of Florida Grand Opera, felt they had been through one of the most exhilarating experiences imaginable. Our audiences agreed.
Scenes from Anna Karenina and other information are available at youtube.com by searching under Florida Grand Opera.
***
Justin Moss is Managing Director for Marketing and Communication at Florida Grand Opera. Prior to joining the company in 1993, he held various management posts with the Virginia Opera, Baltimore Opera and Boston Lyric Opera. He has also served as a judge for the Metropolitan Opera National Auditions on several occasions in the United States and Canada, and frequently gives talks about opera, both standard repertoire and contemporary, throughout Southern Florida.