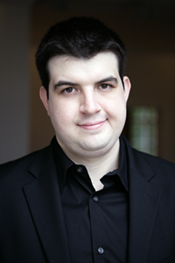 Dan Visconti
The Barlow Endowment for Music Composition at Brigham Young University has awarded Dan Visconti the 2010 Barlow Prize, which carries with it a $12,000 cash award, to compose a major new work for piano trio. Visconti (a regular blogger here on NewMusicBox) holds a graduate composition degree from the Cleveland Institute of Music and took additional studies at the Yale School of Music. His composition teachers include Zhou Long, Margaret Brouwer, Aaron Kernis, and Ezra Laderman.
The judging panel awarded the Arlington, Virginia, resident the prize after reviewing 326 composer applications from 31 countries worldwide. The judging panel also granted Justin Dello Joio of New York City the distinction of honorable mention in this competition.
In considering 117 applications in the General and LDS commissioning programs, the Endowment granted $55,000 to nine composers who will write works for the following ensembles and musicians: Michael Gandolfi (Melrose Symphony Orchestra); Eric Chasalow (Talea Ensemble); Augusta Read Thomas (New Haven Symphony); Lansing McLoskey (Triton Brass); Gregg Wramage (Brett Deubner–violist); David Sanford (Lara Downes–pianist); Jesse Jones (Cornell University Winds); Joseph Sowa (Eric Hansen–string bass); Seth Stewart (Eugene Contemporary Chamber Ensemble).
The judging panel included the Endowment's board of advisors: Steven Ricks, David Rakowski, Ethan Wickman, Todd Coleman, and Stacy Garrop. Newell Dayley served as a guest judge in the deliberations. Monte Belknap, Lois Shapiro, and Paul Frehner represented the Deseret, Triple Helix, and Gryphon piano trios. These three ensembles comprise the Endowment's performing consortium who will premiere the new work in 2012.
Next year's Barlow Prize will feature a woodwind quintet. Details will be made available after the first of the year.
(—condensed from the press release)