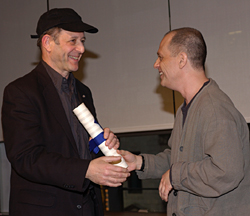 Steve Reich accepts his Letter of Distinction from David Lang
Photo by R.J. Capak
On May 5, Steve Reich was given a Letter of Distinction by the American Music Center, timely and appropriate, as he is one of the great renovators of classical music here in the States. A chance to see Reich speak is a bit like seeing Homer intone his poems or Bob Dylan sing his protest songs: one gets the sense of being not only in the presence of a living legend but a man who stands as a great representation of a different—and perhaps slightly more golden—age.
To assess the career of Steve Reich is to embark on a journey from disaffected youth to elder statesman, a story full of intense musical vision crossed with tenacity and integrity—and a story, which is, at this writing, showing no signs of stopping. From his earliest tape pieces—like Come Out and It's Gonna Rain—to the video opera Three Tales, his most recent offering, Reich has an identifiable and highly profiled music, which is fearless and fresh even by today's pluralistically tough standards.
A 10-disc set released in 1995 by Nonesuch is, barring a few omissions, a thoughtful survey of his output—and a fine place for neophytes to get a sense of the breadth of possibility with which his work is rife. Listening to the first disc shows a composer experimenting with process—"Gradual Process," as he labels it (meaning music steeped in process, rather than the way a composer composes)—in both the early tape pieces and works for live musicians like Piano Phase and Four Organs. "While performing and listening to gradual musical processes," wrote the composer in 1968, "one can participate in a particular liberating and impersonal kind of ritual. Focusing on the musical process makes possible that shift of attention away from he and she and you and me outward toward it." Other subsequent pieces like Drumming, Clapping Music, and Music for Mallet Instruments, Voices and Organ demonstrate a honing and expansion of these process techniques—each a separate and distinct submission from a singular artist; all steeped in a new and influential compositional technique.
When Reich received the award, it was presented by composer, Bang on a Can co-founder and leading light in the post-Reich generation David Lang. He remembered fondly the first time he heard It's Gonna Rain, when he was a young man working in a Los Angeles record shop. He described it as: "…one of those pieces that invents its own powerful magic, its own world. It is a piece that asks a lot of questions, presenting an expansive array of paradoxes, not the least of which is how an individual's humanity can become illuminated in confrontation with technology. The piece is full of real contradictions. It is at the same time aggressive and restrained, its means of composition is elegant but its source material is raw. It is dense and complicated but it is made very simply. The piece employs a repetitive process but somehow moves forward with a continuously evolving shape. The man's voice is rough and human and down-and-out, but the music transforms the voice into something intensely spiritual, with the promise of eventual redemption. Most important, it is a deeply musical experience made from something that is not supposed to be musical at all—from the spoken word itself.
"For me, as a young and inexperienced listener, what was most provocative was that this piece was clearly about something new—it wasn't about harmony or melody or orchestration. It wasn't satisfied to be about writing a nice tune or making a pleasant noise. It was a piece that was bursting out of the restrictions of the traditional definitions of music. Knowing that such a thing could even be attempted was a revelation to me, and I never forgot it."
In 1976 Reich wrote the now-seminal Music for 18 Musicians. If the early pieces cracked things open, then this piece was—along with other "minimalist" masterworks like Glass' Music in Twelve Parts or Riley's In C—the "shot heard round the world," a clearer and more pristine sounding of the new musical revolution. And it represented an entirely new direction for Reich: "There is more harmonic movement of the first five minutes," he wrote in 1976, "than in any other complete work of mine to this date." Like many important contributions from the Beatles or the Velvet Underground or Captain Beefheart—"drug-oriented rock and roll" the composer called it—works like Music for 18 Musicians represent the era's sophisticated counterculture as much as they outline one important strand in the evolution of concert music. Here was music that could be not only studied by composers for its process, but loved by anyone interested—a far cry from the thorny music of the day's academic pantheon.
The early eighties were a productive time for Reich: in 1981 he wrote Tehillim, his first major work incorporating texts (in this case original Hebrew Psalms); 1984 saw the composition of Desert Music, using words by William Carlos Williams. Reich was starting to move away from his direct, palpably audible processes, partially because of his newfound love of setting language. "What I found," the composer wrote, "was that once I had chosen the text, the text then forced me to do things musically I would not have otherwise done." Meters were shifted, melodies born of metric necessity, all based on the stresses and meanings of the words.
He had started writing less frequently for his own ensemble (Steve Reich and Musicians) composing for the conventional orchestra. Desert Music was his first piece to use this traditional ensemble, and in 1987 he wrote a purely instrumental work, The Four Sections. But even within these standard confines, Reich found a way to make the sound his own. The title not only stands for the sections of the orchestra, but also for the number of movements, as well as the divisions of harmonic progressions within each movement.
During the mid and late '80s Reich experimented with his own type of counterpoint, an extension of Eight Lines, which he had composed in 1979. Pieces like Electric Counterpoint (written for guitarist Pat Metheny), Vermont Counterpoint and New York Counterpoint all deal, according to Reich, with: "…a soloist playing against a prerecorded tape of themselves." Around this time he also wrote Different Trains, a piece that, "…begins a new way of composing which has its roots in my early taped speech pieces. The basic idea is that speech recordings generate the musical material for musical instruments." Early memories of childhood cross-country train trips, crossed with a bit of reflection on the Holocaust—a Jew in Europe would indeed be riding quite a different train than a young American in the 1940s—were the inspirations for this work for tape and string quartet.
The early '90s found Reich pushing the boundaries yet again, this time with opera. In his first large scale collaboration with video artist Beryl Korot, The Cave is a three act "video opera" about a cave in Israel. "Throughout this work," writes Reich, "five large screens present interviews, landscapes, and architectural footage in sequences timed with live music. The result is a new type of music-theater, with aspects of both opera and movies, all of which documents an ancient reality."
The final disc of Nonesuch's all-Reich tour leaves the composer in 1995, with the most recent work being the spare and gorgeous Proverb, based on a single line of Wittgenstein: "How small a thought it takes to fill a whole life." It seems fitting that Reich would set these words, he who has made a career making so much out of precious little. The music hearkens back not to the early days of his own career, but much further to Perotin, one of his great influences.
Recent performances of his newest music theater piece Three Tales (which depicts the Hindenburg disaster, the bomb testing on Bikini Island, and the cloning of sheep) show that Reich's music is as innovative and forward-moving as ever, steeped as it is in a thirty-year-old aesthetic he helped build. It is quite something to give a lifetime achievement award to someone still on the edge and nowhere near the end, someone still producing works with the same pioneering spirit that made him great way back when.
Looking through the documents about and by Steve Reich, one gets a sense of the beautiful communal attitude of the '60s. In photographs, younger versions of current luminaries such as Philip Glass, Gavin Bryars, and Michael Nyman are shown participating as sidemen in performances of Reich's music—a favor he no doubt returned. For those of us who missed the '60s altogether, these documents are as important as the music; they give us a sense of what can be accomplished when many come together—to make work, to meet minds, to have fun, and to help each other out.
So congratulations Mr. Reich, for your well earned and richly deserved award, and thank you for your legacy. You cracked the world open for all of us.